Getting Started with the MyoWare® 2.0 Muscle Sensor Ecosystem
≡

Pages
Favorited
Favorite
4
MyoWare 2.0 Reference Cable
The MyoWare 2.0 Reference Cable is meant as an extension for the MyoWare 2.0 Muscle Sensor's reference pin. By inserting the pin to its housing and placing a biomedical sensor pad into the electrode snap, you can stick the reference cable to a separate section of the body such as a bony portion of the elbow or a nonadjacent muscle near the targeted muscle where the built-in reference pin is unable to reach.
Hardware Overview
Note: The built-in reference snap connector should be sufficient for most applications. However, for users having a difficult time connecting to a muscle group, we recommend getting the reference cable. This is mainly intended for large muscle groups (such as the quad, hamstring, etc.).
One end of the MyoWare 2.0 Reference Cable has a crimped pin with a tab. This is meant to be inserted into its respective pin housing on the MyoWare 2.0 Muscle Sensor. The tab will lock the pin in place. The other end has a snap pin to connect to a biomedical sensor pad. The cable is about 3 inches long.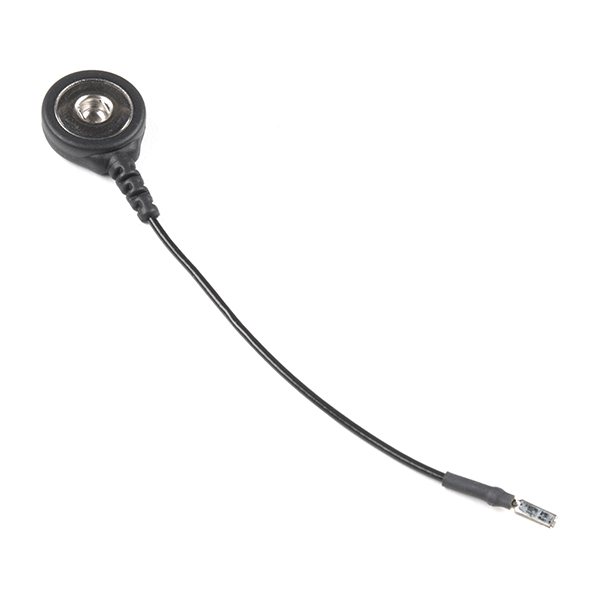 Note:
The reference snap connector on the board remains active even with the cable inserted. Disable the socket by cutting the jumper trace on the top side of the sensor. Re-enable the socket by shorting the jumper pads with solder. For more information on modifying the jumpers, check out our
tutorial on working with jumper pads and PCB traces
.
---