≡

Pages
Contributors:
QCPete
,
santaimpersonator
Favorited
Favorite
5
Introduction
The SparkFun Pi Servo pHAT provides your Raspberry Pi with 16 PWM channels that can be controlled over I2C. These channels are broken out in a header combination that is perfect for connecting servo motors. Additionally, the PWM channels can control other PWM devices as well.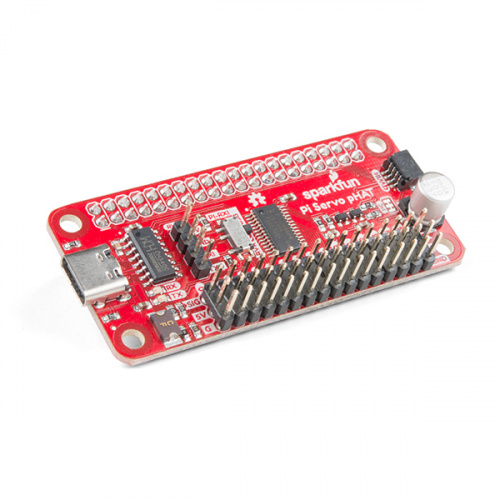 Furthermore, the Pi Servo pHAT can be used for a serial terminal connection to remotely control the Raspberry Pi, without the need for a monitor and keyboard (header used by the Sphero RVR). As an added bonus, we have provided a Qwiic connector for users to easily interface with the I2C bus using the Qwiic system. Who says you can't have it all?
Required Materials
Note: Below are lists of products that you will need for this hookup guide. You may already have some of these products in your cart or at home; please, feel free to modify your cart as necessary.
---
To get started with the Pi Servo pHAT, you will need a Raspberry Pi board with headers. There are several options that can be found under the Raspberry Pi Board product category. Additionally, we also offer these boards in various kits.
(Some, but not all of our Raspberry Pi kits include a Raspberry Pi. Be sure to double check the Includes tab of the associated product page. Additionally, the Sphero RVR kits will include this Pi Servo pHAT.).
---
There are a few additionally accessories that you will need to use your Raspberry Pi.
You will need an microSD Card, Power Supply, and USB-C Cable (optional) at minimum to run your Raspberry Pi. There are two options for the microSD card, a NOOBS card that comes pre-flashed with the OS need to run your Raspberry Pi or a blank SD card that can be flashed using the files and instructions from the Raspberry Pi Foundation page.



(To flash your own SD card, you will also want to grab a microSD USB adapter.)
---
Last of all, to test the functionality of the Pi Servo pHAT you will want a servo motor.
(Any "standard" 5V servo in our catalog should work. Keep in mind when purchasing, the continuous rotation servos behave differently from the normal servos.)
---
Required Tools
No tools are required to used this product. However, you may need a soldering iron, solder, and/or general soldering accessories to solder modify the jumpers or solder on headers to your Raspberry Pi board (if it didn't come with them).
Suggested Reading
Below are several tutorials and hookup guides covering various topics that we suggest users get familiar with before beginning this hookup guide. As a supplement, the hookup guides for the previous Pi Servo Hat are listed as well.
The Pi Servo pHAT also provides a Qwiic connector to take advantage of our new Qwiic system. We recommend familiarizing yourself with the Logic Levels and I2C tutorials before using it. Click on the banner above to learn more about our Qwiic products.
---