≡

Pages
Contributors:
jimblom
,
HelloTechie
Favorited
Favorite
12
Meet the Edison
The Edison is the powerful new computing module from Intel(R). It's tiny enough to embed into wearable projects, versatile enough to manage internet-of-things applications, and powerful enough to control robotics platforms.
The Edison packs a host of features, including WiFi (802.11a/b/g/n), Bluetooth (4.0 and 2.1 EDR), UARTs, I2C, SPI, USB, and 40 GPIO. It's driven by a 32-bit Intel® Atom™ Processor clocked at 500MHz, supported by 1GB of LPDDR3 RAM and 4GB eMMC flash memory. To top it off, it's housed in a tiny, 35.5 x 25.0 x 3.9 mm module.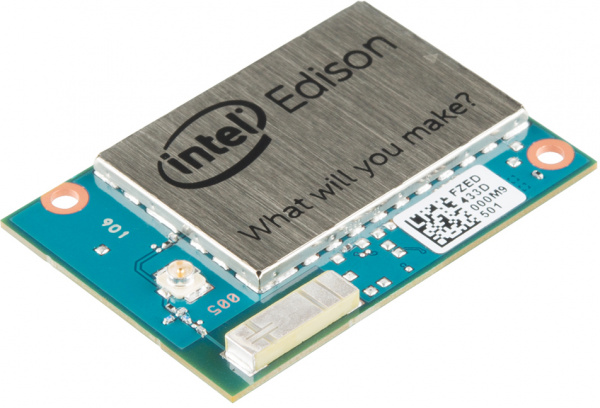 Top view of the Edison. The guts are covered in an RF shield. You can also see the an antenna for WiFi/Bluetooth and a u.FL connector for attaching an external antenna.
Needless to say, the Edison is a powerful, little electronics brain. It has the power to change how we all think about embedded computing. The module is equipped with a Linux OS based on Yocto, so you can compile C/C++ files, or run Python, Node.js, and other scripts.
Interfacing With the Edison
To keep the platform small, all of the I/O pins are broken out to a 70-pin Hirose DF40C connector. These fine-pitch connectors are great for keeping things small, but can be difficult to interface with. They're board-to-board connectors, so to interface the Edison with other components you'll need a board with a mating Hirose connector.
Currently, the mating boards available include a whole host of SparkFun Edison Blocks, the Arduino Expansion Board, and the [Mini Breakout]((https://www.sparkfun.com/products/13025).
The Edison Blocks which (among many other boards) include the Base Block, Console Block, Console Basic Block, and Battery Block are a great way to customize your Edison project, while maintaining the minuscule form factor. Learn more about the Blocks and how they interconnect by reading our General Guide to SparkFun Blocks for Intel Edison
The Arduino board is a great place to start, if this is your first foray into the Edison or embedded computing.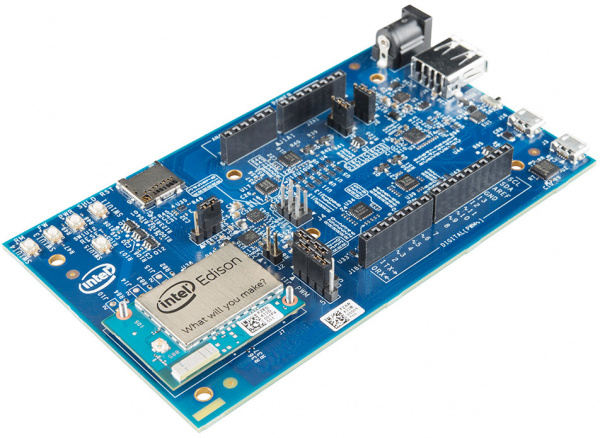 The Mini Breakout, like the SparkFun Blocks, is useful if you want to embed the Edison into a project. It includes an FTDI for interacting with the console, and it also breaks out the Edison's USB-OTG port and a number of I/O pins.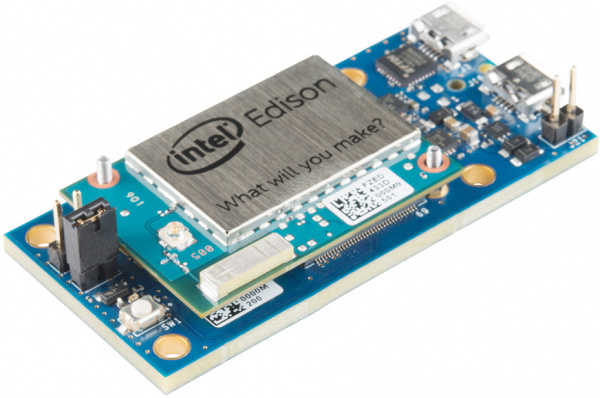 Once you have the Edison plugged into a power and console source, you can interact with the on-board Linux kernel and start developing!
Covered In This Tutorial
This tutorial is focused on getting you ready to develop on the Edison. We'll walk you through everything from handling and powering the Edison to getting a console loaded up and connecting it to WiFi. We'll also cover how to program the Edison through the comfy confines of Arduino.
The tutorial is split into the following sections:
What You'll Need
Beyond that, you may also need to gather: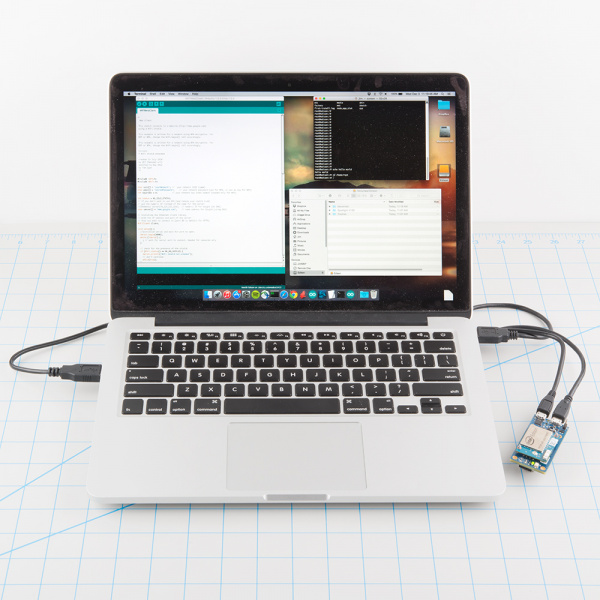 That should be enough to get started developing on the Edison!
Suggested Reading
---