≡

Pages
Contributors:
Santa Claus Impersonator
,
Englandsaurus
Favorited
Favorite
0
Introduction
PCA9548A and TCA9548A?
The SparkX version of the Qwiic Mux breakout used the PCA9548A. The SparkFun red version uses the TCA9548A. Overall, both should be functionally the same with a
few minor differences
.
The Qwiic Mux - TCA9548A enables communication with multiple I2C devices that have the same address. The IC is simple to interface with and also has 8 configurable addresses of its own, this allows you to put 64 I2C buses on a single bus!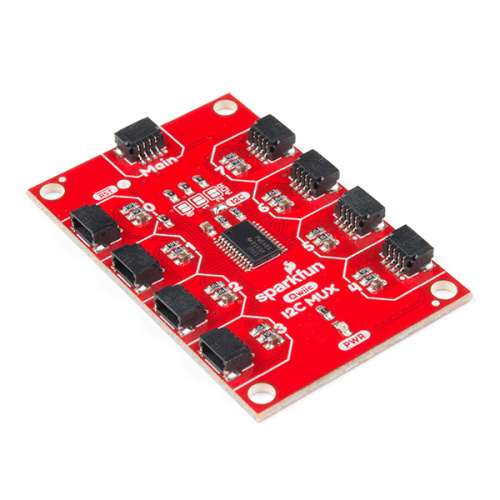 In this tutorial we'll go over how to talk to sensors on different channels of your MUX. The application of this is pretty straightforward so things won't get too fancy.
Required Materials
You'll need a few additional items to get started with the Qwiic Mux. The RedBoard Qwiic is for the Arduino examples and the Qwiic pHAT is for the Raspberry Pi example (see note below). You may already have a few of these items, so feel free to modify your cart based on your needs. Additionally, there are also alternative parts options that are available as well (click button below to toggle options).

Raspberry Pi Example:
If you don't already have them, you will need a
Raspberry Pi
and
standard peripherals
. An example setup is listed below. (
The Qwiic Mux and Python library have not been tested on the newly released Raspberry Pi 4 because we don't carry it in out catalog yet.
)
Tools
Depending on your setup, you may need a soldering iron, solder, and general soldering accessories.

Suggested Reading
If you're unfamiliar with jumper pads, I2C, Qwiic, or Python be sure to checkout some of these foundational tutorials.
How to Work with Jumper Pads and PCB Traces
Handling PCB jumper pads and traces is an essential skill. Learn how to cut a PCB trace, add a solder jumper between pads to reroute connections, and repair a trace with the green wire method if a trace is damaged.
RedBoard Qwiic Hookup Guide
This tutorial covers the basic functionality of the RedBoard Qwiic. This tutorial also covers how to get started blinking an LED and using the Qwiic system.
The Qwiic Mux is intended for the Qwiic connect system. We recommend familiarizing yourself with the Logic Levels and I2C tutorials before using it. Click on the banner above to learn more about our Qwiic products.
---