MicroMod GNSS Function Board - NEO-M9N Hookup Guide
≡

Pages
Contributors:
bboyho
,
Elias The Sparkiest
Favorited
Favorite
1
Introduction
The u-blox NEO-M9N is a powerful GPS unit that now comes populated on a MicroMod Function Board! In this tutorial, we will quickly get you set up using it with the MicroMod ecosystem and Arduino so that you can start reading the output.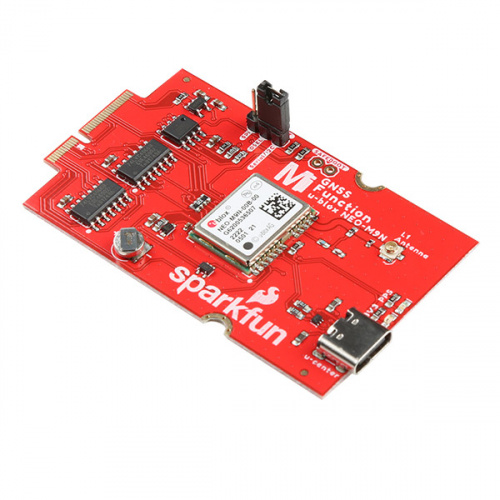 Required Materials
To follow along with this tutorial, you will need the following materials. You may not need everything though depending on what you have. Add it to your cart, read through the guide, and adjust the cart as necessary.
MicroMod Main Board
To hold the processor board and function board, you will need one Main Board. Depending on your application, you may choose to have one or two additional function boards.
MicroMod Processor Board
There are a variety of MicroMod Processor Boards available to choose from. We recommend getting the ones that are Arduino compatible.
MicroMod Function Board
To add additional functionality to your Processor Board, you'll want to include one or two function boards when connecting them to the Main Board. Besides the NEO-M9N, you could add an additional function board for your project if you have the Main Board - Double.
Tools
You will need a screw driver to secure the Processor and Function boards.



Suggested Reading
If you aren't familiar with the MicroMod ecosystem, we recommend reading here for an overview.
If you aren't familiar with the following concepts, we also recommend checking out a few of these tutorials before continuing. Make sure to check the respective hookup guides for your processor board and function board to ensure that you are installing the correct USB-to-serial converter. You may also need to follow additional instructions that are not outlined in this tutorial to install the appropriate software.
---