Cellular Function Board - Blues Wireless Notecarrier
≡

Pages
Contributors:
El Duderino
Favorited
Favorite
1
Hardware Assembly
If you're not familiar with assembling boards using the MicroMod connection system, head over to the MicroMod Main Board Hookup Guide for information on inserting and securing your MicroMod Processor and Function Boards to the Main Board:
MicroMod Main Board Hookup Guide
November 11, 2021
The MicroMod Main Board - Single and Double are specialized carrier boards that allow you to interface a Processor Board with a Function Board(s). The modular system allows you to add an additional feature(s) to a Processor Board with the help of a Function Board(s). In this tutorial, we will focus on the basic functionality of the Main Board - Single and Main Board - Double.
Notecard Assembly
This Function Board requires a bit more assembly than others as you'll need to attach the Notecard to your Function Board along with the antennas. The Notecard uses the same M.2 connector as the MicroMod ecosystem so just connect it as you would do with other MicroMod M.2 connections.
Antenna Connection
The antenna connections on the Notecard use u.Fl connectors. Depending on your antenna choice, you may need an adapter like this. For tips on how to properly use a u.Fl connector, this tutorial can help.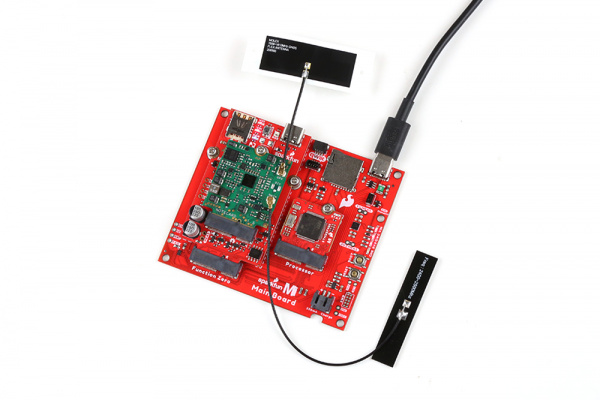 Completed Assembly
Our Arduino example for this Function Board demonstrates how to send environmental data from an Environmental Function Board mounted on the Double Main Board with the Cellular Function Board. The photo below shows a completed MicroMod assembly for that example: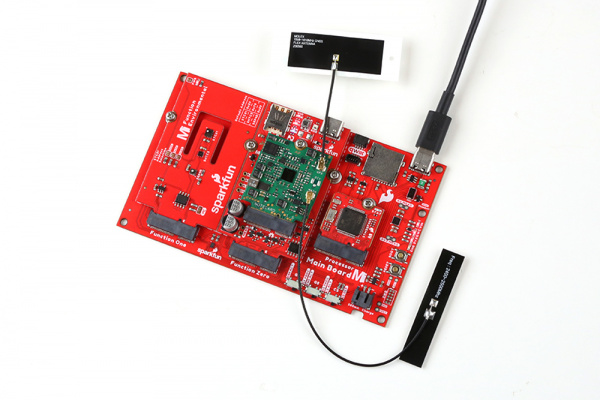 ---