≡

Pages
Contributors:
Paul Smith
,
bboyho
Favorited
Favorite
51
How to Splice Wires
Prepare the wire by stripping the wires ends using a wire stripper. If you are working with stranded wire, try twisting the ends to group the strands together and tinning the tips before soldering.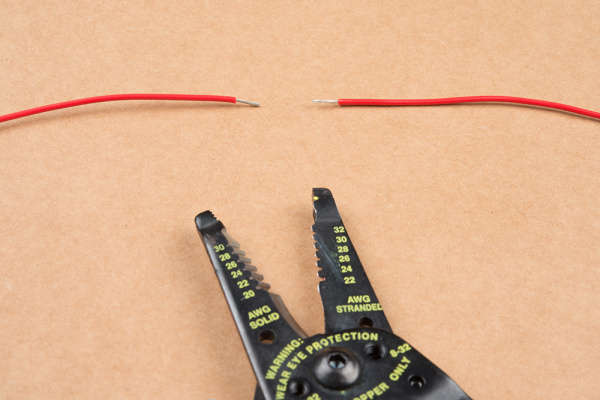 Cut a piece of heat shrink to cover the exposed wires. Slide the heat shrink through one of the wires. Make sure to slide the heat shrink away from area where you are splicing.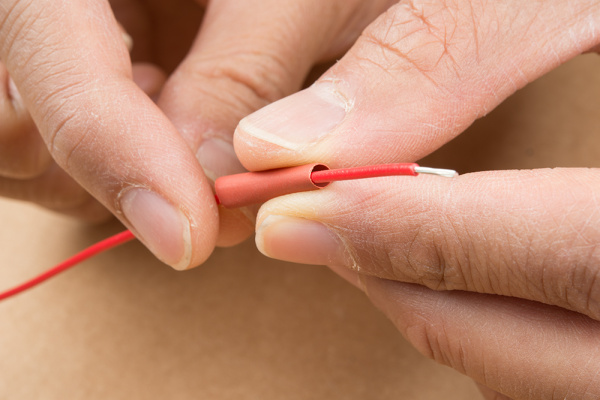 Face the wire terminals toward each other and touch the exposed ends together.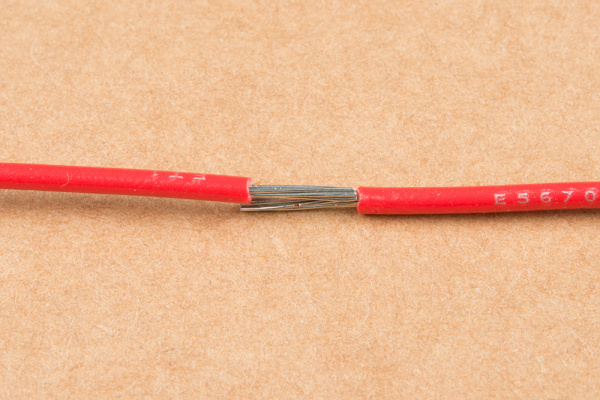 Hold the wires together by using tape to hold the wires in place against a soldering mat.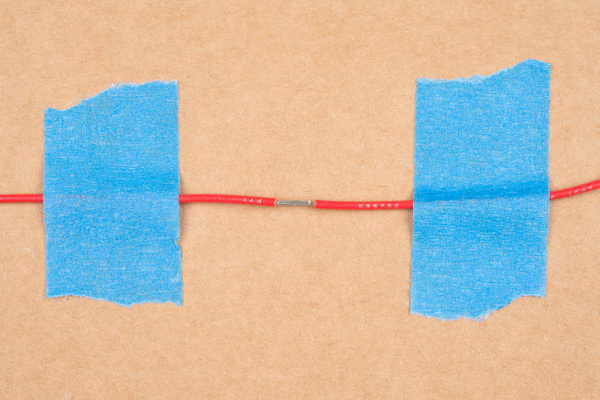 Add solder to the wires. Try not to leave the soldering iron on the wires too long. The insulation can melt away exposing more wire.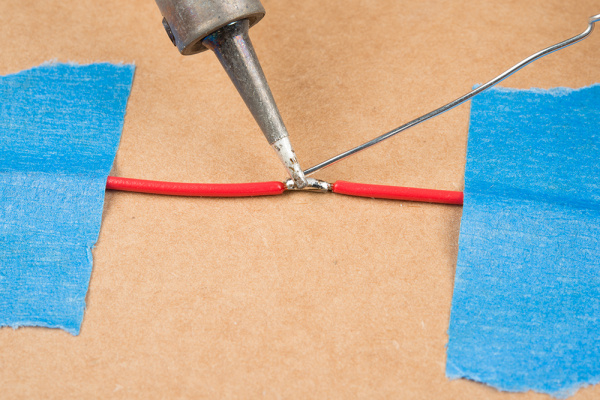 Ensure that the underside of the wire is also soldered.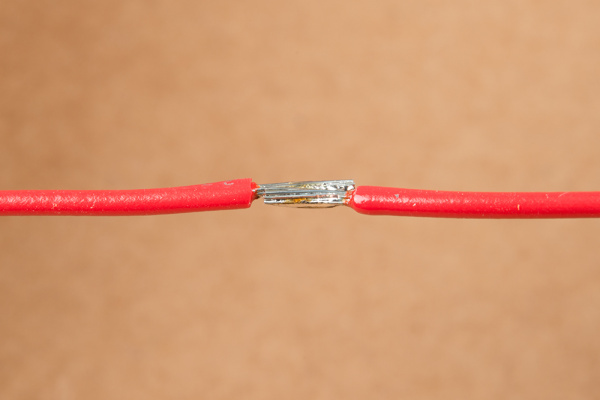 Flip the wire over and spread solder over the wires. If necessary, add flux and solder to cover wires.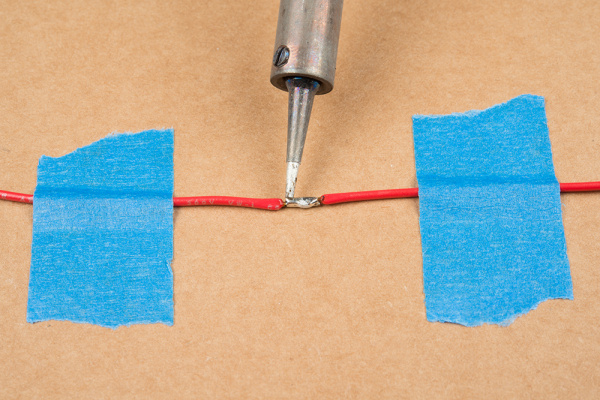 If you are using heat shrink, slide it over the terminal to insulate the connection. Apply heat to the heat shrink from a soldering iron or a hot air rework station.
| | |
| --- | --- |
| | |
| Heat from a Soldering Iron | Heat from Hot Air Rework Station |
When complete, the heat shrink should fit over the exposed wire.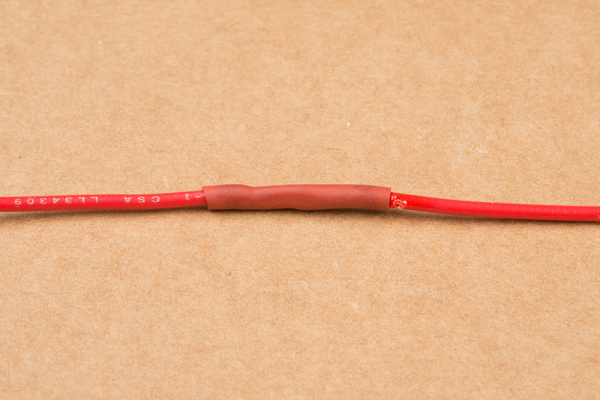 Tips:
Looking for more ideas and methods of slicing wire? Try twisting the wires together. You can have the twisted wires
facing each other (a.k.a. twisted helix)
or
in the same direction
.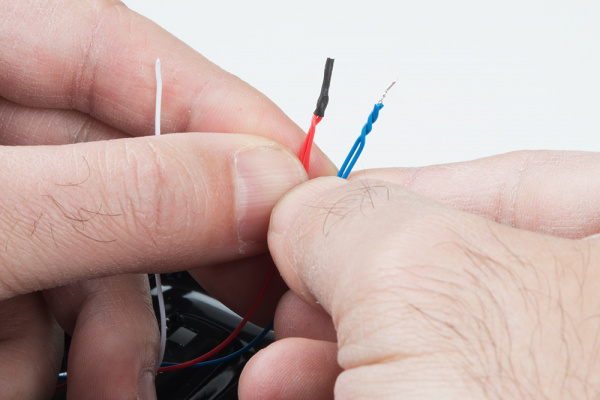 You can also try hooking and twisting the wires together in a
Western Union splice (a.k.a. Lineman's Splice)
. This method is ideal for solid core wire but it can be used on stranded wires.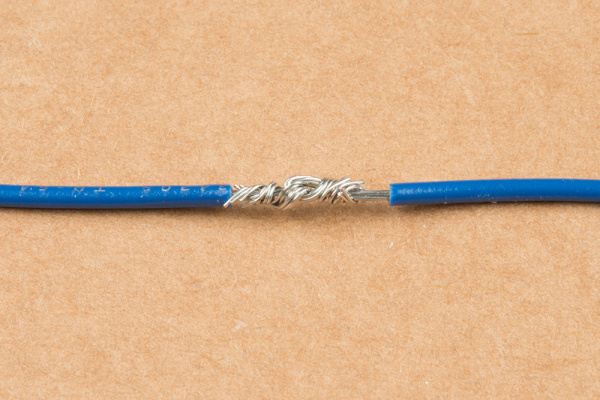 For advanced users, you could also tap into the wire for a
Western T-splice
instead of cutting straight through wire. This is useful when adding a component(s) (i.e. a pull-up resistor) if you have a limited amount of space to work with to save time and reduce costs. Simply strip the middle of your wire, remove the insulation using a hobby knife/soldering iron, wrap a separate wire/terminal to the exposed wire, and solder. When finished, add some heat shrink or hot glue for insulation. The image below shows a resistor and wire being added to the middle of two wires.
Tip:
Having trouble splicing wires together or connecting wires to a pin? Try using a PCB as a support when soldering similar to the one built in the custom EL wire extension cable.
---