≡

Pages
Contributors:
bboyho
Favorited
Favorite
0
Introduction
The SparkFun LiPo Fuel Gauge - MAX17043 connects your LiPo battery to your project and uses a sophisticated algorithm to detect the relative state of charge and direct A/D measurement of battery voltage. In other words, it tells your microcontroller how much 'fuel' is left in the tank. The LiPo Fuel Gauge Breakout communicates with your project over I2C and an alert pin also tells you when the charge has dropped below a certain percentage.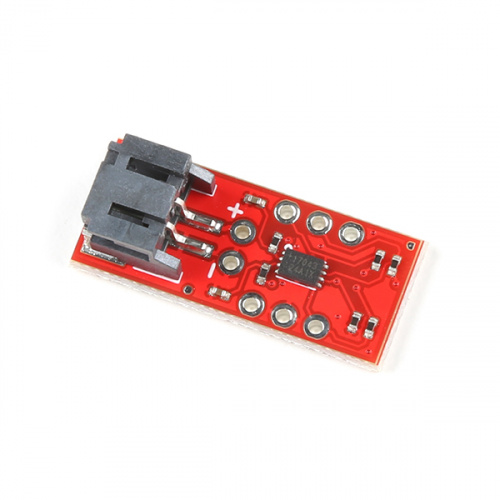 Required Materials
To follow along with this tutorial, you will need the following materials at a minimum. You may not need everything though depending on what you have. Add it to your cart, read through the guide, and adjust the cart as necessary. Below is a wishlist of the parts that you need to get started.
Microcontroller
You will need a microcontroller with an I2C port when connecting to the LiPo Fuel Gauge. For the scope of this tutorial, we will be focusing on the Arduino Library for the LiPo Fuel Gauge.
Note:
Depending on the microcontroller that you receive, there may already be a built-in LiPo Fuel Gauge! The following are a few boards that include the MAX1704X. Note that some boards like the ESP32 Thing Plus, IoT RedBoard ESP32, and QDuino Mini use the MAX17048. The MAX17048 is similar to the MAX17043 but it can provide a few more readings from your LiPo battery (i.e. charge rate, disharge rate, 1% change in SOC, undervoltage, overvoltage, etc.). The Arduino Library that we are using is also compatible with MAX17048!
Display
The example code can be used to print the voltage and state of charge of a single cell, LiPo battery using a serial monitor. For those that want to monitor a battery remotely, you can add a display to the setup. Below is the Qwiic Micro OLED breakout that can be used. You can also use a different display. However, you will need to adjust the code to display the readings properly.

Retired
Single Cell LiPo Battery
Of course, you will also need a single cell LiPo battery. Below are a few LiPo batteries to choose from in the SparkFun catalog.
Tools
Building a circuit using this breakout requires some assembly and soldering. You may already have a few of these items but if not, the tools and hardware below help with that assembly.


Retired
Prototyping Accessories
Depending on your setup, you may want to use IC hooks for a temporary connection. However, you will want to solder header pins to connect devices to the plated through holes for a secure connection. Depending on your application, you could use straight headers or right angle headers. Of course, you could also solder wire as well.
For those that want to take advantage of the Qwiic enabled devices, you'll want to grab a Qwiic cable. Users can cut, strip, and solder half of a cable to easily connect the LiPo Fuel Gauge to a Qwiic-enabled microcontroller. For those that soldered male header pins to the board when prototyping, users can use a Qwiic cable with male pins or female sockets to connect without desoldering the header pins on the board. Note that this causes the board to have a higher height profile than soldering wires straight to the board.
Recommended Reading
If you aren't familiar with the following concepts, we also recommend checking out a few of these tutorials before continuing.
---