MicroMod Alorium Sno M2 Processor Board Hookup Guide
≡

Pages
Contributors:
Member #798807
,
Ell C
Favorited
Favorite
1
Introduction
The MicroMod Alorium Sno M2 Processor Board features the Snō System on Module (SoM) from Alorium Technology adapted to the MicroMod M.2 processor form factor. Snō's FPGA provides a reconfigurable hardware platform that hosts an 8-bit AVR instruction set, compatible with the ATmega328, making Snō fully compatible with the Arduino IDE. Snō SoM has a compact footprint, making it ideal for space-constrained applications and an obvious addition to our MicroMod form factor for prototyping.
Alorium Technology provides a library of custom logic called Xcelerator Blocks (XBs) through the Arduino IDE that accelerate specific functionality that is slow, problematic, or even impossible for an 8-bit microcontroller. This library includes XBs such as Servo Control, Quadrature, Floating Point Math, NeoPixel, and Enhanced Analog-to-Digital Converter. Alorium also notes a XB roadmap where future XBs will be implemented based on feedback from early adopters and new potential customers.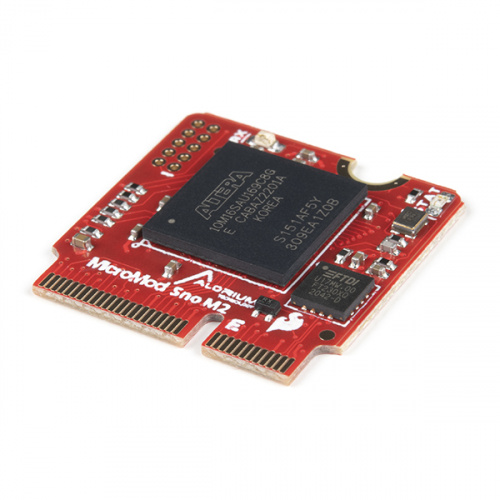 Required Materials
To follow along with this tutorial, you will need the following materials. You may not need everything though depending on what you have. Add it to your cart, read through the guide, and adjust the cart as necessary.
Suggested Reading
If you aren't familiar with the MicroMod ecosystem, we recommend reading here for an overview. We recommend reading here for an overview if you decide to take advantage of the Qwiic connector.
If you aren't familiar with the following concepts, we also recommend checking out these tutorials before continuing.
Getting Started with MicroMod
Dive into the world of MicroMod - a compact interface to connect a microcontroller to various peripherals via the M.2 Connector!
---