≡

Pages
Contributors:
Englandsaurus
Favorited
Favorite
0
Introduction
The gator:starter is one of a series of gator-clippable boards called gator:boards that SparkFun has created to interface with the micro:bit and gator:bit v2 expansion for micro:bit. The gator:starter is a nice contained package of a temperature sensor, an RGB LED, and light sensor. In this hookup guide we'll go over how to hook up each of the individual boards, along with some examples involving all of the boards together.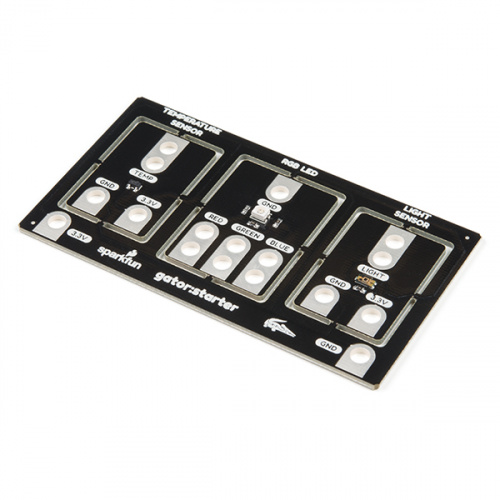 Retired
Required Materials
For this activity, you'll of course a micro:bit. You'll also need some alligator clips to connect everything together, and a micro-B USB cable to program your micro:bit. All of these things are shown below, so grab them if you haven't already. The gator:bit v2 is recommended if you'd like to add some more input and output to your micro:bit, but you'll be able to get along fine with just a micro:bit.
Suggested Reading
If you decide to use the gator:bit v2 and it's your first time using the board, check out the gator:bit v2 Hookup Guide.
SparkFun gator:bit v2 Hookup Guide
January 31, 2019
The gator:bit v2 is a breakout board for the BBC micro:bit. The gator:bit exposes almost every pin on the micro:bit to clippable pad with circuit protection. It also has as built-in addressable LEDs and a built-in buzzer.
Also, if you're starting out with electronics and aren't familiar with the following concepts, we recommend checking out these tutorials before continuing.
---