≡

Pages
Favorited
Favorite
4
Introduction
Heads up!
This tutorial is for the thumb joystick breakout board and shield. For those that want to quickly connect to the thumb joystick without needing to solder, check out the
Qwiic Joystick [COM-15168]
to connect via I
2
C.
Whether you're blasting aliens, driving a robot, or write your awesome classic Arcade Game for your Arduino, you'll find the analog thumb joystick a very useful addition to your projects. This tutorial will go over the analog thumb joystick breakout board with some Arduino examples.
Later, we'll also go over the thumb joystick shield for Arduino and Processing examples. You can follow along with the examples using the breakout board if you have some additional hardware!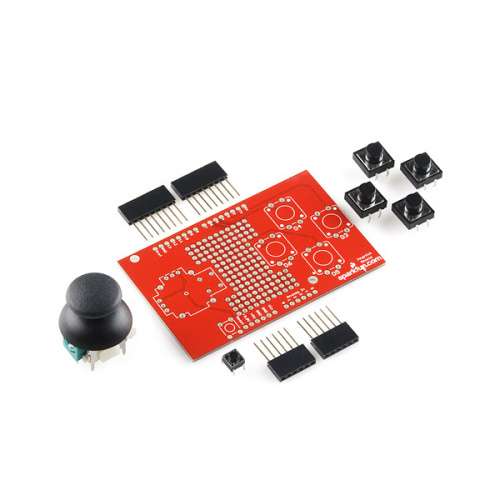 Retired
Suggested Viewing
For a simple demo of the thumb joystick, check out the video below!
Required Materials
To follow along with this tutorial, you will need the following materials. You may not need everything though depending on what you have. Add it to your cart, read through the guide, and adjust the cart as necessary. If you decide to use the breakout board, you'll need the parts from this wish list.
If you decide to use the shield, you'll need the parts from this wish list.
Tools
You will need a soldering iron, solder, and general soldering accessories.
Suggested Reading
If you aren't familiar with the following concepts, we recommend checking out these tutorials before continuing.
---