SparkFun RTK Reference Station Hookup Guide
≡

Pages
Contributors:
PaulZC
Favorited
Favorite
2
Introduction
The RTK Reference Station from SparkFun is our most capable GNSS receiver and logger to date. It's your one stop shop for high precision geolocation, surveying and time reference needs. For basic users, it is incredibly easy to get up and running; for advanced users, the Reference Station is a flexible and powerful tool. We took everything we learned while developing our other RTK products, refined it and the Reference Station is the end result.
Is this just a RTK Facet in a metal box? Oh no! It is so much more... Sure, it is based on the same ESP32-WROOM processor and u-blox ZED-F9P multi-band GNSS module as the Facet. And it runs the same core firmware as the rest of the RTK product family. But there the similarities end. The Reference Station has 10/100 Mbps Ethernet connectivity provided by a WIZnet W5500 and it can be powered by Power-over-Ethernet (PoE) too. With just a few minutes of setup and survey-in, your Reference Station can be serving RTCM correction data to an NTRIP caster of your choice, all via Ethernet!
Need an affordable Network Time Protocol time server for your Ethernet network? We've got you covered. The Reference Station can act as a NTP server. It supports DHCP by default, but you can give it a fixed IP address if you want to. DNS, gateway and subnet mask are all configurable too.
The Reference Station gets a big speed boost too. The microSD card socket is connected via full 4-bit SDIO instead of the usual SPI, providing an order or magnitude improvement in read and write speeds. Similarly, the u-blox ZED-F9P GNSS module is connected via SPI instead of the usual I2C, also providing an order of magnitude improvement in data transfer speeds. Need to log RAWX and SFRBX at 20Hz? You can with the Reference Station!
Required Materials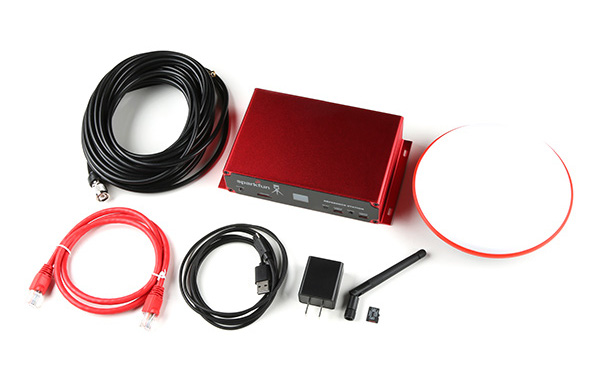 What's in the box?
The RTK Reference Station comes with everything you need to get up and running. Our kit includes:
Cased Reference Station
L1/L2/L5 GNSS Surveying Antenna
Reinforced RG58 TNC-SMA Cable
SMA WiFi / Bluetooth Antenna
32GB microSD Card
USB-C Power Supply (wall charger)
USB-C Cable
Ethernet Cable
What else might you need? Well, it depends on where you are going to install and use your Reference Station. One obvious place would be up on your roof where your antenna will have the best view of the sky. In which case you will want some hardware to help mount the antenna:


The Reference Station itself comes in a beautiful custom extruded aluminium enclosure, with machined end panels and matching stickers. The slotted flanges make it easy to install and secure the enclosure in many locations. But the enclosure only provides limited protection against the ingress of dust and water; it is IP42. So, if you are going to permanently install it up on the roof, you're going to need a suitable weatherproof box too. We found a good one - the Orbit 57095 - also available from Amazon - back when we put together our very first DIY GNSS Reference Station
AC Not Required!
The Orbit enclosure comes with a built-in power outlet, but you don't actually need it! The Reference Station can be powered by Power-over-Ethernet (PoE), meaning all you really need to run up to the roof is a standard 8-core CAT-6 Ethernet cable. Choose a PoE Ethernet Switch that meets your needs. We have had good experiences with the
TP-Link TL-SG1005P
- available from many retailers including
Amazon
.
If you want to keep your Reference Station warm and dry, it is equally at home on your desk, lab bench or in a server rack. You're still going to want to install the antenna outdoors though, so some extra SMA extension cables may be useful. The GNSS antenna connection is standard polarity. If you want to extend the ESP32 WiFi / BT antenna connection too, you need a Reverse Polarity (RP) cable for that. We have good quality RG58 extension cables available in the store:
Finally, if you're going to be logging a lot of data, you might want to stock up on 32GB microSD cards too. The Reference Station can log 'raw' GNSS data messages (RAWX and SFRBX) at 20Hz if desired. At that rate, you're logging about 50kB per second, 180MB per hour, or over 4GB per day! 32GB cards are the ones we recommend - as they come formatted as FAT32. The Reference Station does not support exFAT.
Suggested Reading
GNSS RTK is an incredible feat of engineering that has been made easy to use by powerful GNSS receivers such as the ZED-F9P by u-blox (the receiver inside RTK Reference Station). The process of setting up an RTK system will be covered in this tutorial but if you want to know more about RTK here are some good tutorials to brush up on:
---