≡

Pages
Contributors:
santaimpersonator
,
Englandsaurus
Favorited
Favorite
2
Introduction
Do you have a science experiment involving weather or UV light exposure?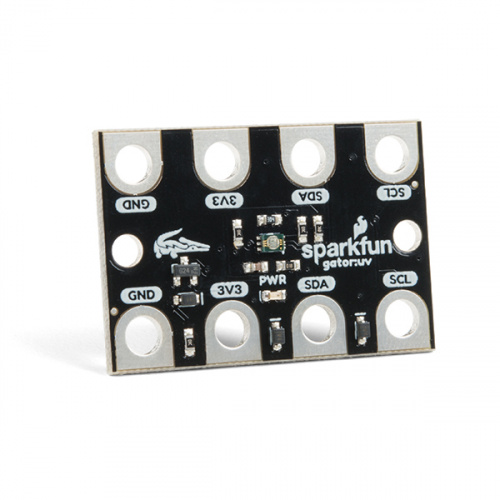 The gator:UV is the perfect tool to monitor the UV exposure in your next experiment. With the VEML6070, the gator:UV can easily be used to measure the levels of UVA (320-400 nm) radiation. This tutorial will show you how to get started using this UV sensor with the gator:bit (v2) in the micro:bit development environment.
Required Materials
To get started, you'll need a micro:bit to control everything. You can purchase one individually on in a kit.

Retired

Retired

Retired
To easily use the gator board ecosystem, a gator:bit (v2) will help breakout the necessary pins and you will also need alligator and/or banana cables to connect the gator:bit to the gator:UV.



(*These banana cables have a special diameter on the attachment points designed specifically for use with the micro:bit ecosystem. They may or may not be compatible with the banana cables used on your test equipment.)
You may already have some of these materials, so feel free to modify your cart as necessary.
Suggested Reading
The gator:UV sensor is pretty straight forward to use in application. However, you may find the following concepts useful along the way.
If you aren't familiar with the micro:bit, we recommend reading here for an overview.
We would also recommend taking a look at the following tutorials if you aren't familiar with them.
---