≡

Pages
Contributors:
santaimpersonator
,
Englandsaurus
Favorited
Favorite
2
Hardware Assembly
Connectors
The SAMD51 Thing Plus has 3 primary connectors a micro-B USB connection, a Qwiic connector, and a battery JST connector.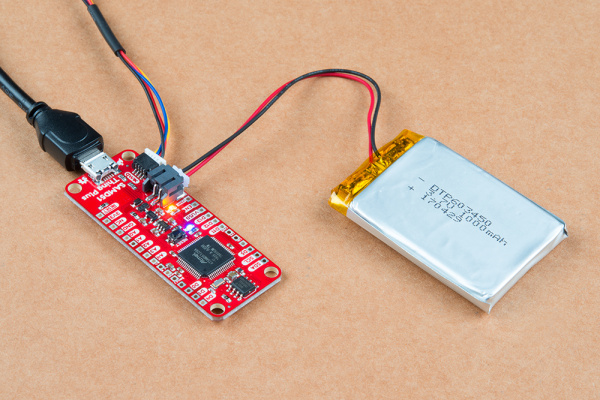 Primary hardware connections on the SAMD51 Thing Plus.
Micro-B USB Connector
There are a few ways to use this board. However, most users will be interfacing with the SAMD51 Thing Plus, primarily through the micro-B USB connector to power and program the board. This connection is also used to charge the Li-Po battery, when in use. Need another micro-B USB cable for your drawer?
Qwiic Connector
With the Qwiic connector system, assembling your hardware is simple. All you need to do is connect your Qwiic device to the SAMD51 Thing Plus with a Qwiic cable.
JST Battery Connector
There is a 2-Pin JST PH connector available for single cell Li-Po batteries. The SAMD51 Thing Plus also has a built-in charge controller for charging your single cell Li-Po battery from the USB connection.
Headers & Shields
All the pins for the SparkFun SAMD51 Thing Plus are broken out to 0.1"-spaced pins on the outer edges of the board. When selecting headers, be sure you are aware of the functionality you need. If you have never soldered before or need a quick refresher, check out our How to Solder: Through-Hole Soldering guide.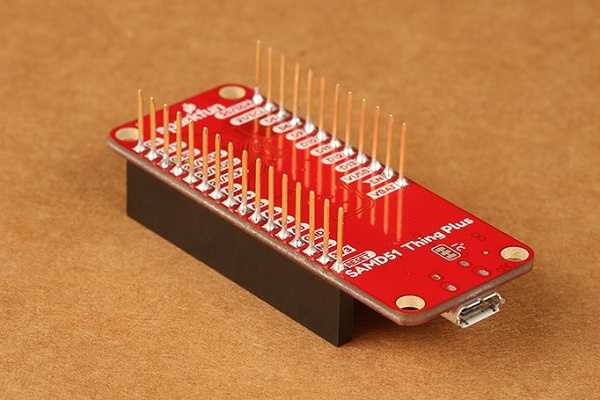 The Feather Stackable Header Kit is a great option as it allows users to stack shields (w/ Feather footprint) or it can be placed on the a breadboard; while, the pins are still accessible from the female/male headers.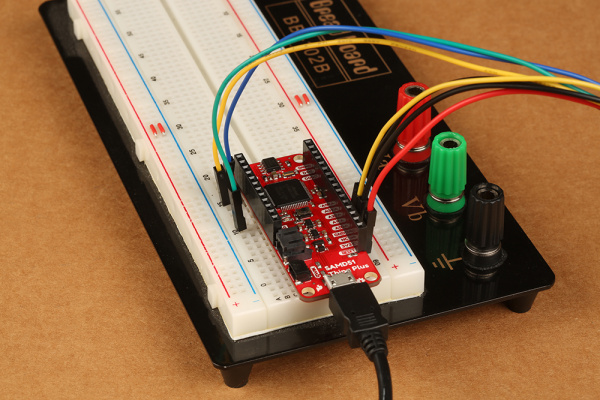 SAMD51 Thing Plus on a breadboard with jumper wire connections and room (above) to add stackable shields.
---