≡

Pages
Contributors:
santaimpersonator
,
MAKIN-STUFF
Favorited
Favorite
2
Introduction
The Qwiic EEPROM is a simple and cost effective option to add some extra storage space to any project. With 512 kilo-bits (or 64 kilo-bytes) of storage, this product is great for any microcontroller that doesn't have any EEPROM storage space, like the SAMD21.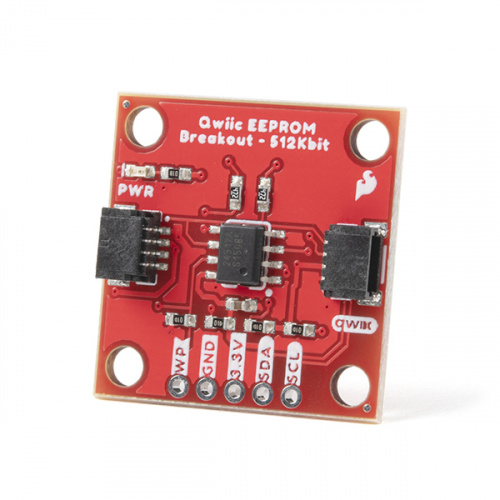 Maybe your project needs to store data, like a public-key, in non-volatile memory? Maybe you want to use multiple boards as configuration keys with different default settings for your project? Whatever your project needs might be, this guide will help users familiarize themselves with the Qwiic EEPROM and its operation.
Required Materials
The Qwiic EEPROM does need a few additional items for you to get started. The RedBoard Qwiic will be used for the Arduino examples. A single board computer and the Qwiic pHAT are required for the Python examples (see note below). You may already have a few of these items, including the required Qwiic cable, so feel free to modify your cart based on your needs. Additionally, there are also alternative parts options that are available as well (click button below to toggle options).
Suggested Reading
If you're unfamiliar with serial terminals, jumper pads, or I2C be sure to checkout some of these foundational tutorials.
The Qwiic EEPROM utilizes the Qwiic connect system. We recommend familiarizing yourself with the Logic Levels and I2C tutorials (above) before using it. Click on the banner above to learn more about our Qwiic products.
Note: First time Raspberry Pi users should also head over to the Raspberry Pi Foundation website and check out their quickstart guides:
Raspberry Pi Foundation Getting Stared Guides:
MagPi Books and Guides:
We have also listed a few additional resources for users to familiarize themselves with the Raspberry Pi:
Note: First time Nvidia Jetson Nano users should also head over to the Nvidia website and check out their guides and tutorials:
---