≡

Pages
Contributors:
Gella
Favorited
Favorite
12
E-Sewing
A great way to try out sewing with conductive thread without programming is to create e-sewing projects.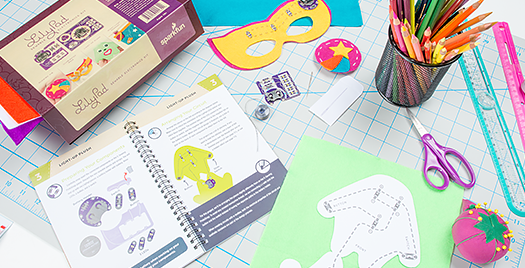 LilyPad LEDs and a LilyPad Coin Cell Battery Holder will light up a project, and the possibilities can be expanded to include simple interactive elements like buttons or switches, which you can purchase or make yourself. We recommend e-sewing projects if you are new to sewing or want to create a quick and easy light-up craft.
Here are some e-sewing projects to try:
Light-Up Plush
Craft a light-up plush with LilyPad LEDs controlled by pressing a button and sliding a switch in the creature's hands.
Glowing Pin
Create a quick and easy piece of e-textile art using a LilyPad LED, battery holder, conductive thread, and coin cell battery.
Illuminated Mask
Use LilyPad LEDs, a switched battery holder, and coin cell battery to make a fun light up mask for your next costume party.
Suggested Materials:
Needle
Scissors
Felt or Fabric
Hot Glue and Glue Gun
Conductive Thread
Coin Cell Battery
LilyPad Coin Cell Battery Holder
LilyPad LEDs
Optional: LilyPad Button Board, LilyPad Slide Switch, metal snaps, conductive thread
---