≡

Pages
Contributors:
Paul Smith
Favorited
Favorite
5
Overview
In this tutorial, I am going to go through the process of how the SparkFun humidor was designed and built. A humidor is any kind of box or room with constant humidity, used to store cigars, cigarettes, pipe tobacco, or in this case sensors. I'll be covering designing a 3D software model and fabricating it using a CNC router.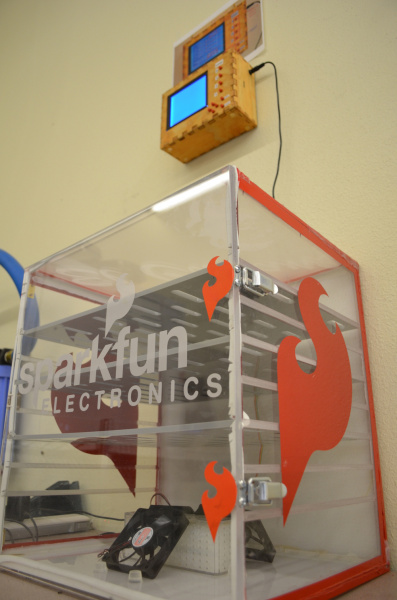 The finished project
Requirements
I realize the following list includes some items that are very expensive and probably not too common in everyone's home/shop. I still wanted to show their use for someone who may not be familiar with these tools. Here is what I will be using:
Creo Parametric 2.0 (formerly Pro Engineer, FREE for educational purposes - Software)
Visual Mill 5 (Software)
Mach 2 CNC (Software)
K2 CNC Machine (Hardware)
Background
If you don't already know, a CNC router is a computer controlled router capable of cutting out very complex shapes. CNC stands for Computer Numerical Control. The CNC machine is connected to a computer and is given very precise three dimensional coordinates to which the machine should move. Using a combination of motors and encoders, the machine is able to cut out nearly anything you can draw. There is lots to cover, so lets get started.
---