Building an Autonomous Vehicle: The Batmobile
≡

Pages
Contributors:
Nate
Favorited
Favorite
7
Chassis
The AVC rules stipulate that you cannot spend more than $500 on your total budget and that you have to stay within certain size restrictions. We started trolling craigslist to see what was out there and immediately found a plethora of free or cheap "broken" Power Wheels. When a Batmobile for $25 popped up, we quickly snagged it.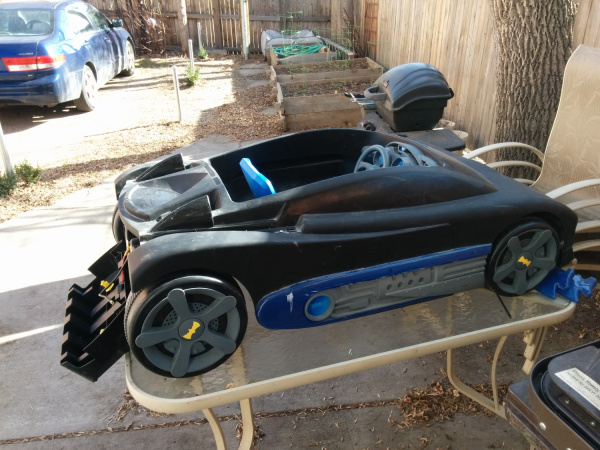 Dusty with dog hair and dead spiders -- it's perfect!
The primary failure of all used Power Wheels is a dead battery. The Batmobile was no different; as soon as we put in a new 12V SLA (Sealed Lead Acid), it happily, albeit slowly, drove around. There is nothing magical about "Power Wheels" branded batteries; get the right voltage (usually 12V, sometimes 6V), and you can use almost any battery you'd like.
The original batmobile chassis blow molded plastic at its finest. The wheels are hollow, the motor is designed to move a child slowly (and reasonably safely), and the steering is littered with bits of metal but mostly loose and wobbly. While the stock chassis was capable of moving adults weighing in at around 200lbs, we knew it wouldn't handle racing, so we decided to find a metal chassis to sit underneath.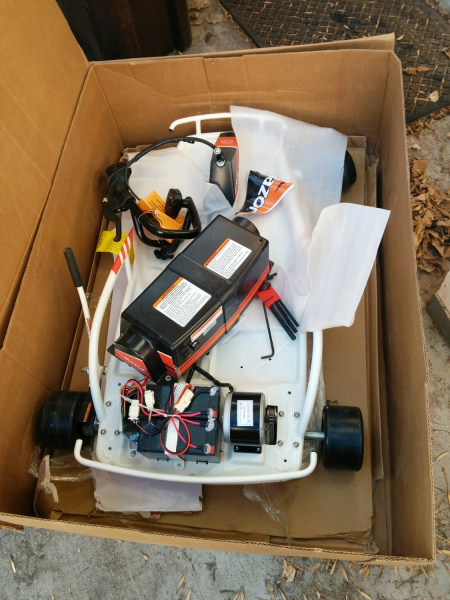 Note the size of the motor and battery. Those are about to get much larger.
Razor is known for their kick scooters, but they're in the electric go-kart market as well. We found a Razor Drifter Open Box for $165. The Drifter had the steering, brakes, wheels and chassis sorted out for us! Additionally, the Drifter came with a stock 24V battery, 250W motor and 250W motor controller.
Many PRS and AVC competitors are talented enough to weld their own chassis together. DIY welding is a great way to save money, but it may take weeks of fabrication. Because we planned to enter the autonomous field, we decided to find a ready-made chassis and spend our time building and debugging the autonomous bits.
---