≡

Pages
Contributors:
santaimpersonator
Favorited
Favorite
1
Introduction
NOTE: This can be a relatively complex and overwhelming product for novice users, due to the numerous configuration options that make it so versatile. Novice users, may want to consider the WAV Trigger or MP3 Trigger first.


---
The Tsunami Super WAV Trigger (Qwiic) is a polyphonic WAV file player that was developed in collaboration with Robertsonics (a portion of each sale goes back to them for product support and development). The Tsunami Super WAV Trigger (Qwiic) is an improved version of the Tsunami Super WAV Trigger (the bigger brother of the WAV Trigger), which can now, be controlled through the Qwiic connect system.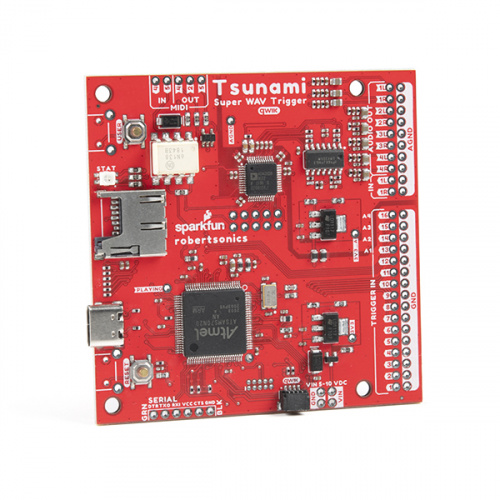 Users familiar with the original Tsunami, will notice a few improvements to the Qwiic Tsunami:
Input Voltage: 5 - 10V
RGB Status LED
I2C Control
New Audio Codec
Digital Filters
Comparison Table
Tsunami WAV Trigger (Qwiic)
Tsunami WAV Trigger
WAV Trigger
Power

5 - 10V
USB-C and PTH

5 - 15V
micro-B USB and PTH

6 - 15V
DC Barrel Jack
Tracks
Up to:
4096 uncompressed files


18 stereo WAV files
32 mono WAV files

Up to:
4096 uncompressed files


18 stereo WAV files
32 mono WAV files

Up to:
2048 uncompressed files
14 stereo WAV files
Audio Outputs
8-channel (Mono)
4-channel (Stereo)
8-channel (Mono)
4-channel (Stereo)
3.5mm TRRS Audio Jack
Speaker connector (PTH)
Audio Input
Line-level stereo
Line-level stereo
None
Control

Triggers:
Serial:
Qwiic (I2C):


16 (3.3V)
Yes (3.3V)
Yes (3.3V)

16 (3.3V)
Yes (3.3V)
N/A

16 (5V or 3.3V)
Yes (5V or 3.3V)
N/A
Status LED
RGB
Blue
Red
Hot Swap SD Card
Yes (with RESET button)
Yes (with RESET button)
No
Firmware Updates
via SD card
via SD card
via serial port
MIDI
Dedicated I/O pins
Dedicated I/O pins
Possible via serial port
Required Materials
The Qwiic Tsunami does need a few additional items, including a pair of (corded) headphones, for users to get started with this tutorial. You may already have a few of these items, including the required USB-C cable, so feel free to modify your cart based on your needs.
Note:
For the best results, we recommend
Class 10
SD cards with a
FAT16
or
FAT32
file system format and a 32kB file allocation size. We recommend avoiding:
The 1GB SparkX SD Card, from our catalog, since it isn't a Class 10 card and can lead to reliability issues.
SD Cards with a capacity larger than 32GB, since it can be difficult to convert them to the FAT16 or FAT32 file system format with a 32kB file allocation size.
For more information on compatible SD cards, please check out the
Robertsonics website
.
There are other additional component options available from our catalog (click the button below to display).
SD Card Option

Audio Component Options
Note: For the best results, we recommend connecting the audio output channels from the Qwiic Tsunami to an active amplifier when speakers are used. Otherwise, when speakers are connected directly to the Qwiic Tsunami, without boosting the signal power, users will notice a significant decrease in sound quality of the audio playback.
*Users can connect the audio output channels from any Tsunami board directly to headphones.
Depending on how user want to configure their audio system, some of these audio components might be of interest:
Trigger Component Options
Depending on how users intend to trigger or control the audio playback, users may want to check out the
switches
and
buttons
categories from our catalog. Additionally, users can also trigger/control the Qwiic Tsunami through serial and I
2
C communication.
Soldering Equipment Options
For a more permanent installation, users might want to consider some soldering equipment and accessories:
Below is a sample selection of our other headers and soldering tools in our catalog. For a full selection of our available Headers, Hook-Up Wire, or Soldering Tools, click on the associated link.
Additional Component Options (Toggle)
Arduino Example
For the Arduino example, a RedBoard Qwiic Plus and Qwiic cable are required. There are also alternative part options for this example as well (click button below to toggle options).


Qwiic Compatible Microcontrollers:
In addition we also offer, Qwiic compatible stackable shields for microcontrollers and pHATs for single board computers (like the
Raspberry Pi boards
) that don't include a Qwiic connector.
You will also need a Qwiic cable to connect to your Qwiic device, choose a length that suits your needs.
Alternative Microcontroller and Qwiic Parts (Toggle)
Suggested Reading
Note:
Robertsonics has a more detailed about this product on their
Tsunami product page
. Robertsonics also provides a cross-platform utility for generating Tsunami configuration files and updating the firmware. All of which, can be downloaded from the Robertsonics'
Tsunami downloads page
.
If you're unfamiliar with serial terminals, jumper pads, or I2C be sure to checkout some of these foundational tutorials.
The Tsunami Super WAV Trigger also utilizes the Qwiic connect system. We recommend familiarizing yourself with the Logic Levels and I2C tutorials (above) before using it. Click on the banner above to learn more about our Qwiic products.
---