Thing Plus Dual-Port Logging Shield Hookup Guide
≡

Pages
Contributors:
Ell C
,
PaulZC
Favorited
Favorite
0
Introduction
The Thing Plus Dual-Port Logging Shield is a Thing Plus/Feather compatible board that lets you access your microSD card over both SPI and USB-C! It is designed to be mounted on or under one of our Thing Plus boards. You can log data to and read data from your microSD card over SPI as usual, using your favorite Arduino SD library. But you can also connect it to your computer via USB-C and read and write files at up to 35 MBytes/second! The write speed is card-dependent but, in our tests, we've routinely seen write speeds around 20MB/s. No more removing the microSD to read your data!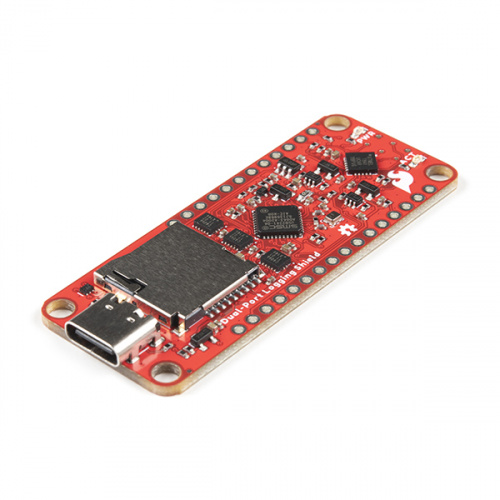 Required Materials
To follow along with this tutorial, you will need the following materials. You may not need everything though depending on what you have. Add it to your cart, read through the guide, and adjust the cart as necessary.
Suggested Reading
If you aren't familiar with the following concepts, we recommend checking out these tutorials before continuing.
Battery Technologies
The basics behind the batteries used in portable electronic devices: LiPo, NiMH, coin cells, and alkaline.
---