≡

Pages
Contributors:
El Duderino
,
PaulZC
Favorited
Favorite
3
Introduction
The SparkFun LTE GNSS Breakout - SARA-R5 provides a robust development tool for the SARA-R510M8S LTE-M module from u-blox.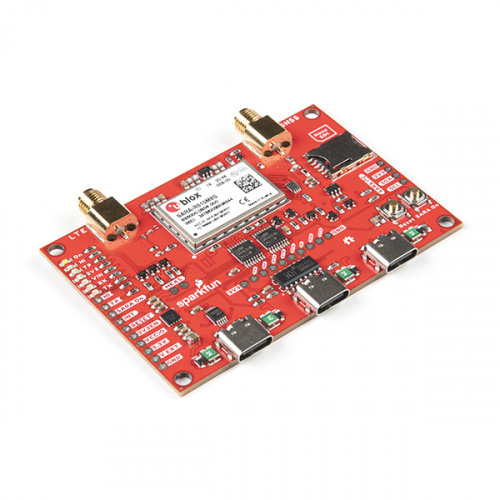 The u-blox SARA-R510M8S module is a secure cloud LTE Cat M1, LTE Cat NB2 solution based on u-blox's UBX-R5 cellular chipset with an integrated u-blox M8 GNSS receiver chip and separate GNSS antenna interface. This breakout routes all of the functional pins on the R510M8S module to user interfaces (USB or plated-through hole) so you can take full advantage of all of the features available on this impressive LTE/GNSS module.
The SARA-R5's UART interface can be configured into one of five variants, providing connectivity over one or two UARTs. A separate USB port provides access to the SARA's trace log for diagnostic purposes. This breakout provides access to all three serial interfaces (UART1, UART2 and SARA Diag) via separate USB-C connections. All eight 3.3V serial signals are available on a 0.1"-pitch breakout header.
The breakout ships with a Hologram SIM card. If you prefer to use your own SIM card, please check that your chosen service provider offers LTE-M coverage for your area before purchasing.
Required Materials
In order to follow along with this tutorial you'll need the following items to use with the LTE GNSS Breakout - SARA-R5.
The primary interface for this breakout is over USB-C so you'll need at least one USB-C cable:
For those who prefer to use the LTE GNSS Breakout with our u-blox SARA-R5 Arduino Library, you'll need an Arduino development board:
Note:
The LTE GNSS Breakout runs at
3.3V
logic and requires some hardware modifications to work with an Arduino and the u-blox SARA-R5 Library. Read on to the
Hardware Assembly
section for detailed instructions.
The breakout requires a pair of antennas, one for the LTE module and another for the GNSS receiver. The options below work with the LTE GNSS Breakout:



Note: The SMA connections are standard polarity: the connector on the LTE GNSS Breakout is female, the antenna connection needs to be standard male. Antennas with reverse-polarity connectors are not suitable for the LTE GNSS Breakout.
Suggested Reading
If you aren't familiar with the following concepts you may want to check out these tutorials before continuing.
---