Capacitive Touch Slider (CAP1203) Hookup Guide
≡

Pages
Favorited
Favorite
2
Introduction
Do you want to replace a slider or a button on your art project or science experiment with a more interesting interface? The SparkFun Capacitive Touch Slider - CAP1203 (Qwiic) is a Qwiic and easy way to add capacitive touch to your next project. With the board's built in touch pads, you can immediately start playing with the touch capabilities as three unique touch inputs or as a slider. You can also enable a touch input to act as a power button, customize the sensitivity for your own touch pads, and play with the interrupt alert LED. Since the sensor supports I2C, we've added a Qwiic connector for easy integration into the Qwiic environment. We've also added breakout pins for the capacitive touch inputs, so you can connect to your own touch pads.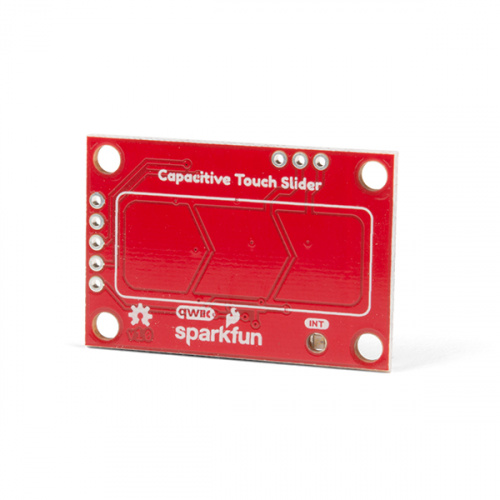 Required Materials
To follow along with the example code used in this tutorial, you will also need the following materials. You may not need everything though depending on what you have. Add it to your cart, read through the guide, and adjust the cart as necessary.


Heads up!
If you are using the
RedBoard without a Qwiic connector
, we recommend getting the Qwiic Shield for Arduino.

If you need different sizes of Qwiic cables, we offer a kit that contains many sizes but we also carry them individually.
Suggested Reading
If you aren't familiar with the Qwiic system, we recommend reading here for an overview.
We would also recommend taking a look at the following tutorials if you aren't familiar with them.
---