Education's accomplishments in 2013!
Favorited
Favorite
1
It's been quite a year in the SparkFun Education Department! We've been going strong all year long, and we're ready to dive right into 2014! This is usually how our department rolls around here. We have a cozy little crew of eight, and we've come a long way throughout 2013.
Our most grandiose endeavor was the 2013 National Tour that spanned over the course of eight months visiting about 30 states! We began our journey in May and ended in December traveling an estimated 23,663 miles in the SparkFun RV.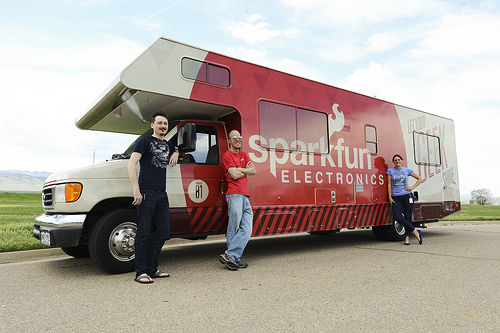 During the tour we taught roughly 21 classes on the Pico Board Kit, 14 classes on the LilyPad Development Board Kit and a whopping 41 classes on the SparkFun Inventor's Kit.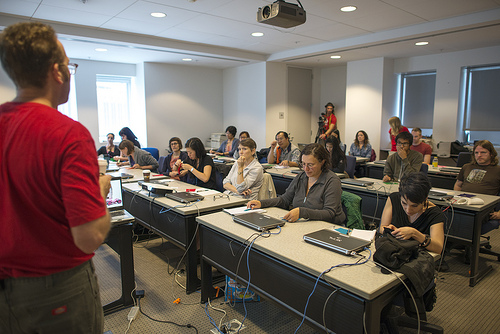 The tour ended with a bang and America wanting more! We couldn't have done it as successfully as we did without some new additions to our SparkFun family including Brian Huang, Derek Runberg and Angela Sheehan.
This leads me to the fact that we have nearly doubled our department growing from five to eight employees! Brian came on in January as our Education Engineer working on the redesign of class materials to focus more time on student exploration and investigation. He's also been working on coming up with a redesign of the Vernier Interface Shield to allow us to easily integrate Vernier sensors into Arduino. Brian supported and helped introduce ArduBlock as a graphical programming platform for Arduino.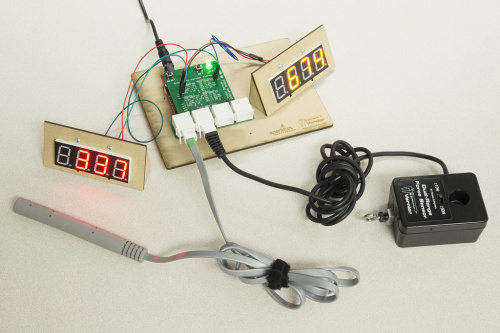 Derek Runberg joined our gang in August as our Curriculum Curator. He has been diligently working on creating new and well designed material for educators and students. Some of his projects have been creating hotsheets and cardboard hero designs. Derek also had the opportunity to teach on the 2013 SparkFun National Tour both in California and Texas!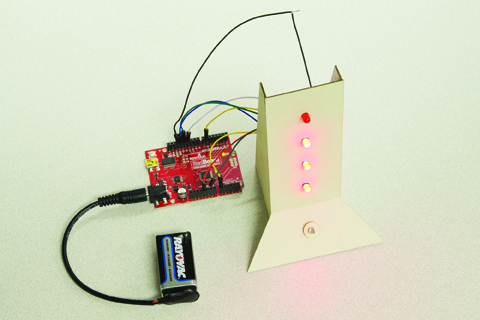 Our most recent member is Angela Sheehan, who jumped on board in September as our newest Educational Outreach Coordinator. Angela has brought e-textile specific knowledge to the plate. She has started to make some demos that use the LilyPad Development Board, and she's created a LilyPad hoodie and e-textile patch. She also hula hooped every day while traveling in the RV during the national tour!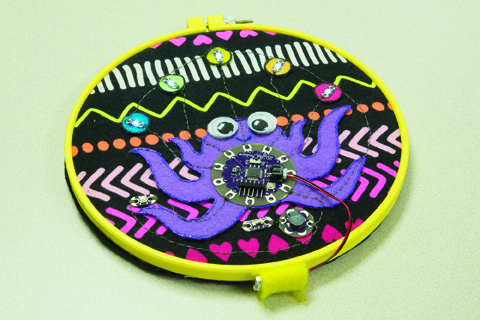 These three as well as our veteran crew members have kicked butt all year! They've helped the department move full steam ahead by continuing the goal to bring 21st century skills and knowledge to the table and create innovative thinkers, problem solvers and a robust DIY community.
On another note, our web site has been going through some necessary changes. Learn has been up and running for some time now, and we've taken into consideration that it's not the easiest site to navigate. We've carefully listened to our readers like you, and the goal of our site is to share information that is clear and concise and continues to offer curricula that is open sourced!
We've sat through multitudes of meetings discussing ways to get the most potential out of Learn. Our tutorials page has gone through some major improvements. They're now specifically categorized to help our viewers navigate expeditiously. A tagging system is being created to notify you which tutorials are the newest. We've kept a clean design concept with large, detailed photos and more simplified instructions. There are also links to related tutorials at the bottom of the page giving you the option to take what you've learned a step further.
Learn is going through other changes as well, and we'll be rolling out some new, more user friendly features and cleaned up curricula in 2014. Keep your eyes peeled!
In October we taught Introduction to Arduino, one of our most popular workshops at SparkFun. For the first time ever we set up live streaming during the class, and it was a success! Since then we've been integrating this feature into our classes giving our customers the opportunity to attend them virtually. We know much of our clientele is from all over the world making it difficult to travel to Boulder for events like these. Our hope is to continue live streaming making these workshops accessible to anyone and everyone who is interested.
In case you haven't noticed we've recently posted most of our 2014 in house classes on Learn. We have a ton of new ones that have never been listed before, and we're thrilled with the opportunity to teach them. Some new beginner classes are Light Up Your Love with Paper Circuitry and Let it Glow, Let it Glow, Let it Glow with Paper Circuits. These classes will incorporate constructing paper pop out cards with electronics. It's a great way to learn the fundamentals of circuitry and be able to take home a completed project! These are all ages classes and don't require any experience.
For those of you who are looking for more advanced classes we now have RedBot and the Costume Hacking series that are making an appearance for the first time! RedBot will show you how to use the Arduino RedBoard to make a simple robot. It's a suitable class for anyone interested in dabbling with robotics. Costume Hacking will take you on a journey through our e-textiles line of products while giving you the creative freedom to incorporate electronics into your Halloween costume!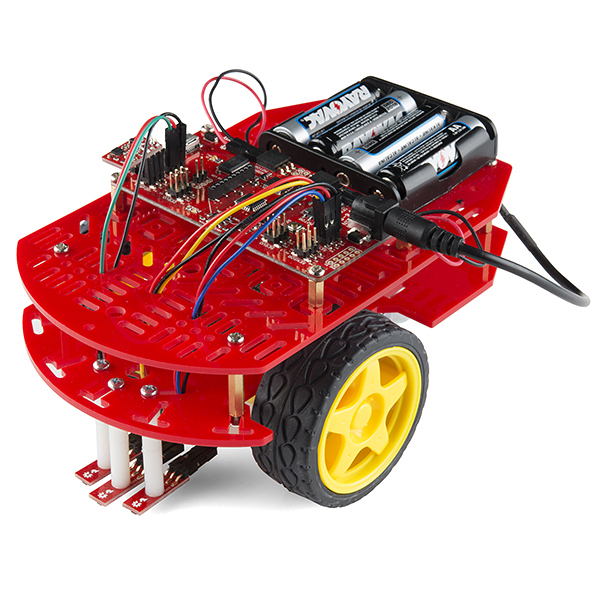 Lastly, we are in the midst of expanding the materials associated with the SparkFun Inventor's Kit, MaKey MaKey and PicoBoard. We want to provide libraries with a kit that includes the hardware as well as activity material, librarian reference materials, and troubleshooting guides. The idea is that these kits can be a part of the library collection for patrons to explore electronics. With hope this program will be launched in early 2014!
All in all, 2013 has been one heck of a year! We are so grateful to everyone who has supported us, and we'll continue to do our best to help our community! Keep in touch with us. Let us know your thoughts and ideas. This is what we thrive on and how we continue to grow. Happy New Year!
---
---
Comments 0 comments