≡

Pages
Contributors:
bboyho
Favorited
Favorite
2
Hardware Overview
Note: This product does not use laser light for ranging. Instead it contains an LED and optics. Many such systems are being marketed under the name "LiDAR," although it may be more appropriate to think of this device as a "Time-of-Flight Infrared Rangefinder". It differs significantly from traditional IR rangefinders in that it uses ToF to determine range and not triangulation — as is performed by the Sharp GP-series devices.
The sensor works by sending a modulated near-infrared light out. The light that is reflected from the object returns to the sensor's receiver. The distance between the two can be converted using the sensor by calculating the time and phase difference. The distance measured may vary depending on the environment and the reflectivity of object.
Input Power
According to the datasheet (pg 4) the input voltage is between 4.5V-6V. In this tutorial, we will be applying 5V to the sensor.
Current Draw Testing and Analysis: According to the datasheet, TFMini may pull up to ~800mA at peak current. Testing with a multimeter set to measure current and a 5V/2A power supply, the sensor was pulling about 66mA-68mA by itself. When using a 5V Arduino, logic level converter, and the sensor, the sensor was pulling about 98mA-92mA. For basic tests, 5V/500mA from a USB port should suffice.

You may want to consider providing a sufficient power supply when using the sensor in a project.
Logic Levels
While the sensor can be powered at 5V, the serial UART pins are only 3.3V logic. Make sure to use a logic level converter when reading the sensor with a 5V microcontroller.
Pinout
There is a marking next to the polarized connector to indicate the polarity as "J1" as indicated in the image below. This is useful when referencing sensor's pinout.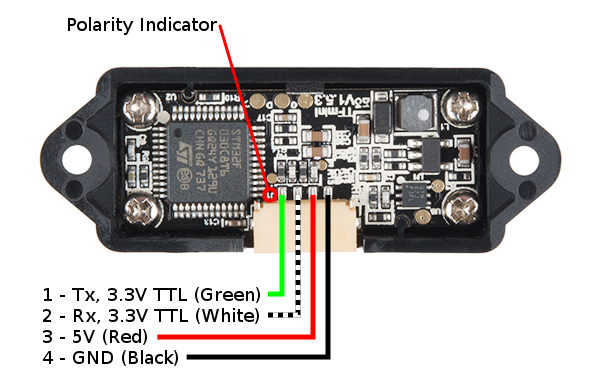 | Pin Number | TFMini Pinout | Wire Color |
| --- | --- | --- |
| 1 | UART_TX (3.3V TTL) | Green |
| 2 | UART_RX (3.3V TTL) | White |
| 3 | 5V | Red |
| 4 | GND | Black |
---