SparkFun Environmental Sensor Breakout - BME680 (Qwiic) Hookup Guide
≡

Pages
Contributors:
El Duderino
Favorited
Favorite
1
Introduction
The SparkFun Environmental Sensor - BME680 (Qwiic) is a breakout for the 4-in-1 BME680 gas sensor from Bosch. The BME680 combines a gas sensor with temperature, humidity and barometric pressure sensing for a complete environmental sensor in a single package. The gas sensor on the BME680 can detect a wide variety of volatile organic compounds (or VOC for short) to monitor indoor air quality. Combine that with precise temperature, humidity and barometric pressure and the BME680 can work as a completely standalone environmental sensor all in a 1"x1" breakout! The BME680 communicates over either I2C or SPI. As you would expect from the name, the BME680's I2C pins are broken out to a Qwiic connector so integrating it into the SparkFun Qwiic System is a breeze. Simply plug it into a Qwiic-enabled microcontroller and you're well on your way to making your own weather station.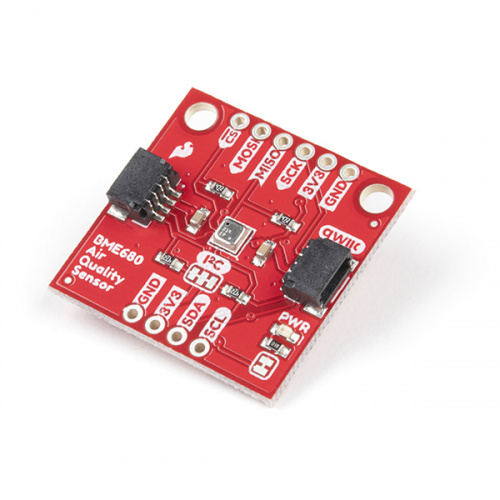 Required Materials
To follow along with this guide you will need a microcontroller to communicate with the BME680. Below are a few options that come Qwiic-enabled out of the box:
If your chosen microcontroller is not already Qwiic-enabled, you can add that functionality with one or more of the following items:
You will also want at least one Qwiic cable to connect your sensor to your microcontroller.
Suggested Reading
If you are not familiar with the Qwiic system, we recommend reading here for an overview:
We would also recommend taking a look at the following tutorials if you aren't familiar with the concepts covered in them.
I2C
An introduction to I2C, one of the main embedded communications protocols in use today.
Serial Terminal Basics
This tutorial will show you how to communicate with your serial devices using a variety of terminal emulator applications.
---