SIK Experiment Guide for the Arduino 101/Genuino 101 Board (French)
This Tutorial is Retired!
This tutorial covers concepts or technologies that are no longer current. It's still here for you to read and enjoy, but may not be as useful as our newest tutorials.
≡

Pages
Contributors:
D___Run___
Favorited
Favorite
0
Qu'est-ce que la carte 101 ?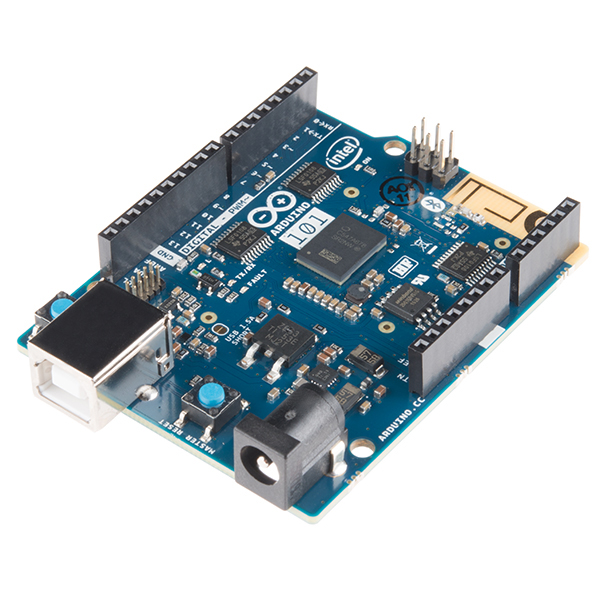 Arduino 101 est une carte d'apprentissage et de développement offrant les performances et la faible consommation du module Intel® Curie™, avec la simplicité d'Arduino à un prix d'entrée de gamme. Elle conserve le format résistant et la liste de périphériques de la carte UNO, avec en plus des capacités Bluetooth Low Energy embarquées et un accéléromètre/gyroscope 6 axes appelé unité de mesure inertielle (UMI) pour développer facilement votre créativité dans le monde connecté.
Le module Intel Curie contient deux minuscules cœurs, un d'architecture x86 (Quark) et l'autre d'architecture ARC 32 bits, tous deux cadencés à 32 MHz. Pour les tâches les plus exigeantes, la chaîne d'outils Intel compile vos sketch Arduino de façon optimale sur les deux cœurs. La carte Arduino 101 comporte 14 broches d'entrées/sorties numériques (dont quatre pouvant servir de sorties PWM), six entrées analogiques, un connecteur USB pour les communications série et le chargement des sketch, un connecteur d'alimentation et une embase ICSP avec signaux SPI et broches dédiées au CI2. La tension de fonctionnement de la carte et des E/S est de 3,3 V, mais toutes les broches sont protégées contre une surtension de 5 V.
---