≡

Pages
Contributors:
bboyho
Favorited
Favorite
4
Introduction
Have you ever wanted to merge technology with your dance? In this tutorial, you will learn how to design and build a wearable LED harness for dance performances. The design is not just limited to dance. You can also use it as a guide for costumes.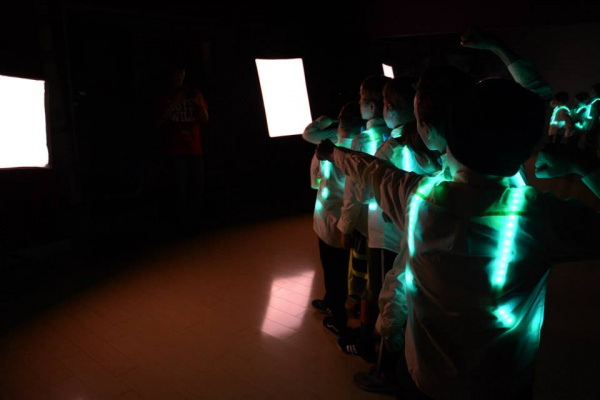 Required Materials
To follow along with this tutorial, you will need the following materials. You may not need everything though depending on what you have. Add it to your cart, read through the guide, and adjust the cart as necessary.
Note:
Make sure to use an appropriate
gauge wire
when wiring the pieces of LED strip and adapter together. After stress testing with a 9V Alkaline battery and checking with a multimeter, the wires used in the wishlist were sufficient. Make sure to test the circuit if you decide to use a different battery chemistry or thinner wires.
Electrical Tape
⅞" Yellow Ribbon
1 ½" Yellow Ribbon
Adhesive Velcro
Thread
Twine or Any Toothy String
Translucent Yellow Button Up Shirt
Bow Tie (Optional)
Folded Handkerchief (Optional)
Tools
You will need a soldering iron, solder, general soldering accessories, and tools to work with wire.
You will also need:
Scissors
Cutting Board
Rotary Cutter
Lighter
Needle
Sewing Machine
Measuring Tape
Yard Stick
Suggested Reading
If you aren't familiar with the following concepts, we recommend checking out these tutorials before continuing.
---