≡

Pages
Contributors:
Joel_E_B
Favorited
Favorite
73
Tips and Tricks
Besides using a third arm, there are other methods of soldering components to boards. You will also run into issues that require different techniques to get the perfect solder joint. Check out some additional tips and tricks below!
Tape or Sticky Tack to Hold Down Components
Got some tape or sticky tack? Try using it to hold down wires or headers against the board!
Silicone or Pieces of Cardboard as Insulation
Need to hold down a component but it's getting too hot to hold down with your fingers against the board? You can always grab a piece of silicone or cut off a piece of cardboard to hold the component down for a few seconds. Below is an example of a resistor being held down on a shield with the help of piece of cardboard.
Old Shields, Development Boards, and Breadboards as a Helping Hand
If you do not have a steady hand, you can use old shields and development boards to align headers before soldering. Here are two examples from the Arduino Shield tutorial when installing female stackable headers or male headers.
| | |
| --- | --- |
| | |
| Installing Stackable Headers with an Old Shield | Installing Male Headers with a Development board |
If you have a shield or breakout board can fit on a breadboard, you can use the breadboard to hold the pins as you solder as well. We recommend using this method with boards that have two rows of headers. You will want to avoid applying a lot of heat as this can melt the breadboard.
| | |
| --- | --- |
| | |
| Installing male headers on TeensyView shield for the Teensy with a breadboard. | Installing long male headers on the MiniGen shield for the Pro Mini with a mini-breadboard. |
Ground Planes and Large Through Holes
Depending on the design, the plated through hole pad size may be connected to a ground plane or it's larger than usual. These require more heat. You may notice that the solder is kind of "sticking" but really, it's just blobbing up. You may need:
larger soldering iron tip
adjust the soldering station to a higher temperature (720 °F)
add flux
keep the soldering iron on the joint just a bit longer
| | |
| --- | --- |
| | |
| Soldering to a Ground Pin on the Beefcake Relay | Solder Blobbing Between Thick Wire and a Large Plated Through Hole on the Beefacke Relay |
Usually adding some flux and keeping the soldering iron a little longer on the joint will help. Having a higher watt, adjustable soldering station usually helps with the tip recovering after it is in contact with something cold. If you have a friend or extra soldering iron around, you can also try to heat the joint with two soldering irons.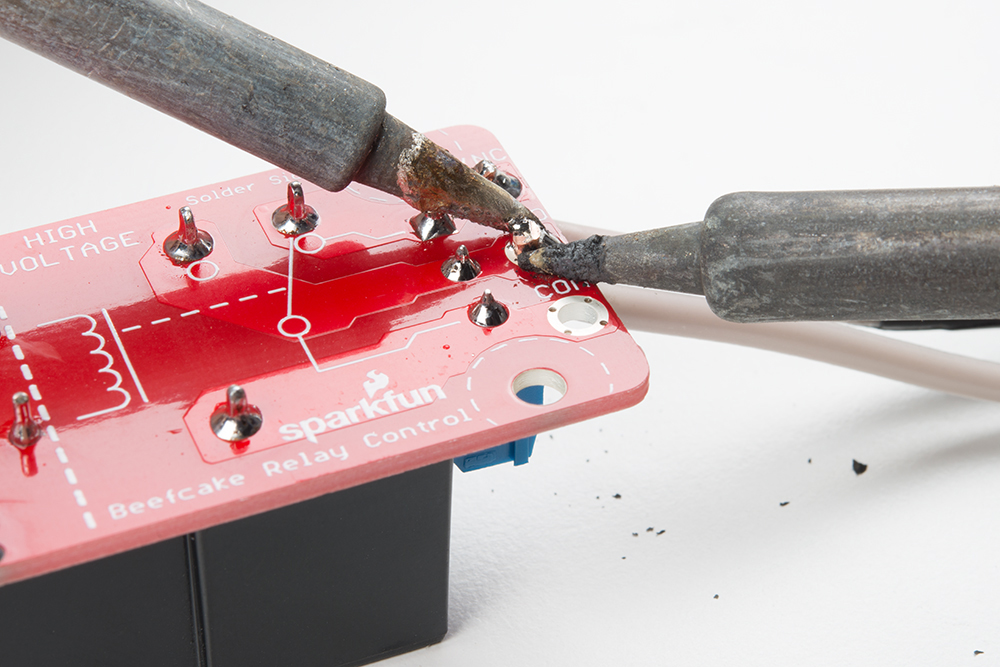 ---