≡

Pages
Favorited
Favorite
5
FSR Overview
There are a variety of FSR options out there, and a few key characteristics to differentiate them: size, shape, and sensing range. Here's a quick overview of the sensors available from Interlink and Tekscan in our catalog. The sensors from Tekscan are much more stable, calibrated to a specific weight, and provide a much larger range.
Shape and Size
Most FSR's feature either a circular or rectangular sensing area. The square FSR is good for broad-area sensing, while the smaller circular sensors can provide more precision to the location being sensed.
The rectangular FSR's from Interlink include a small-ish square 1.75 x 1.75" sensor and a long 0.25 x 24" strip. The rest of the sensors feature a circular sensing area.
Sensing Range
Another key characteristic of the FSR is it's rated sensing range, which defines the minimum and maximum amounts of pressure that the sensor can differentiate between.
The lower the force rating, the more sensitive your FSR hookup has the potential to be. But! Any pressure beyond the sensor's maximum limit will be unmeasurable (and may damage the component). The small 1kg-rated FSR will provide more sensitive readings from 0 to 1kg, but won't be able to tell the difference between a 2kg and 10kg weight.
Force vs. Resistance
The graph below, figure 2 from the Interlink FSR Integration Guide, demonstrates the typical force-resistance relationship: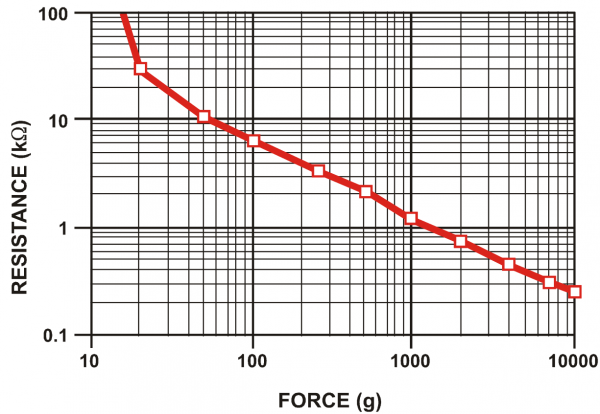 The relationship is generally linear from 50g and up, but note what the relationship does below 50g, and even more-so below 20g. These sensor's have a turn-on threshold -- a force that must be present before the resistance drops to a value below 10kΩ, where the relationship becomes more linear.
FSR vs Load Cells:
These sensors are simple to set up and great for sensing pressure, but they aren't incredibly accurate. They're useful for sensing the presence of something, and the relative magnitude of that force, but they're not all that great at measuring weight (that's what
load cell's
are for!).
---