Re-Cap of SparkFun at NSTA Denver
Re-cap of SparkFun @NSTA13 at the Area Conference in Denver.
Favorited
Favorite
0
Happy Holidays! About two weeks ago, the National Science Teachers Association (NSTA) held their area conference here in Denver.

Being in our backyard, SparkFun Electronics couldn't pass up the opportunity to present at NSTA. We pulled out all of the stops to showcase the tools, products, and curricula we've developed to help support teachers. With as many demos, products, solutions, and curricula that we have here at SparkFun, we had to play around with our booth layout to balance our desire to show everything with the constraints of a 10' x 10' booth.
We had demos showing off our work with Vernier, a high-altitude weather balloon with Arduino, eTextiles with LilyPad, and a number of new "hot-sheets" that we've created for teachers.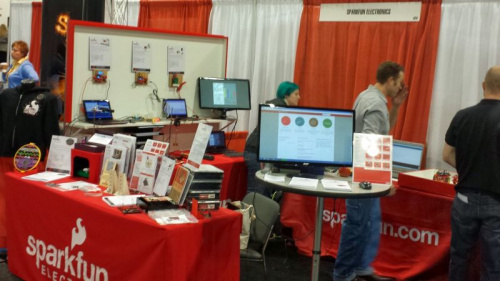 Our booth on day #1. Man, 10' x 10' is a tight area to work in!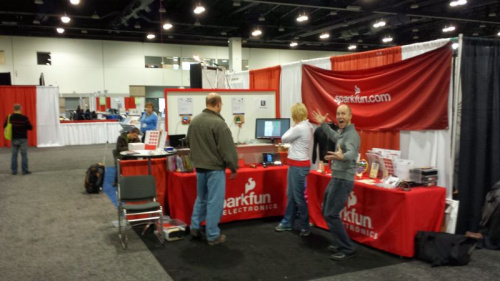 Less is more, right? In a 10' x 10' booth space we had to eliminate a few demos in the interest of removing clutter. Like many things, we are always working on continuous improvement.
Teaching at NSTA
We couldn't show up at a teaching conference and not present a workshop, right? We submitted a proposal to deliver four workshops during the three days of NSTA. We taught a variety of workshops using Arduino with ArduBlock and our Lilypad Protosnap Development Board.
A link to our presentation materials can be found here.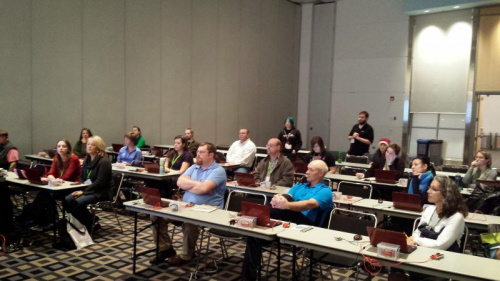 And, we ran a second workshop focused around one of the strands at NSTA on: PreK-8 Science: A PlayGround for Literacy and Mathematics. In this workshop, Jeff taught teachers how they can integrate Scratch from the MIT Media Lab with the PicoBoard to create a data logging / scientific investigation activity for their classes. It was fortuitious for this NSTA conference to fall at the tail-end of the Computer Science Education Week and the Hour of Code.
Materials from this workshop can be found here.
Addendum
Being a former science teacher, I couldn't help myself from poking around the other booths in the vendor area. We were fortunate to share the same aisle with Steve Spangler Science. For those of you who have never heard of Steve Spangler, he has been an inspiration to many science teachers nation-wide. We are lucky to have him here in Colorado. His Sick Science Youtube channel shows off a lot of amazing experiments and demos of making science fun and making it big. One of my favorites is his liquid nitrogen demo on the Ellen Show. There is no doubt that our philosophies in education are similar. We are hoping to have him visit us at SparkFun in January to talk about how we can work together, but in the meantime, we couldn't resist a photo opp with him!
As a wrap-up to our visit at NSTA, haven't you always wanted to go to Space Camp? Since I never got a chance, here's the closest I think I will ever get to going to space: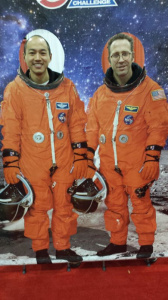 Brian and Jeff @SpaceCamp
---
---
Comments 0 comments