≡

Pages
Contributors:
Shawn Hymel
Favorited
Favorite
1
Introduction
If you have a microcontroller that can act as a USB host, then you will need a way to plug in USB cables and devices. The USB Type A Female Breakout accepts a Type A USB plug on one end and breaks out the 4 USB lines to a standard 0.100 inch header.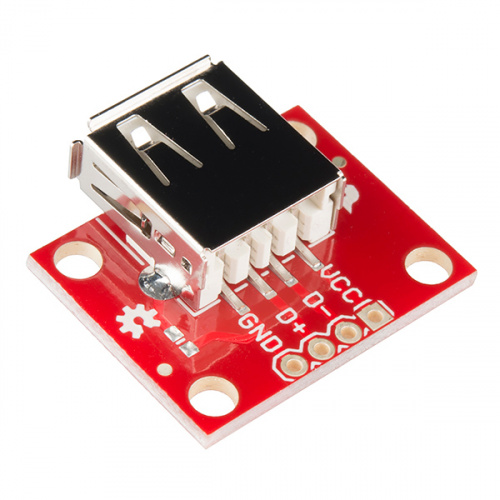 NOTE: This tutorial uses the mbed LPC1768, as it has a built-in USB host. However, the breakout board can be used for any platform that has a USB host.
Covered In This Tutorial
In this tutorial, we will use the mbed LPB1768 and the USB Type A Female Breakout to create a simple circuit that accepts a USB keyboard and prints pressed keys to a serial console.
Required Materials
2x 15kΩ resistors (if you don't have any, 10kΩ resistors will work for this)
5x Jumper wires to connect from breadboard to Arduino.
Breadboard to tie everything together.
USB Keyboard
Suggested Reading
---