≡

Pages
Contributors:
Gella
Favorited
Favorite
27
Making Connections
Now that we know how to create traces and have chosen components for our project, it's time to connect them together. Here are a variety techniques for creating an electrical connection between the components and traces.
Tape Method
Clear tape is an easy way to start attaching components to paper circuits, though it is not as reliable as other methods. Use tape to carefully press over component leads or pads and press down onto copper tape. For SMD components, you can tape over the entire part.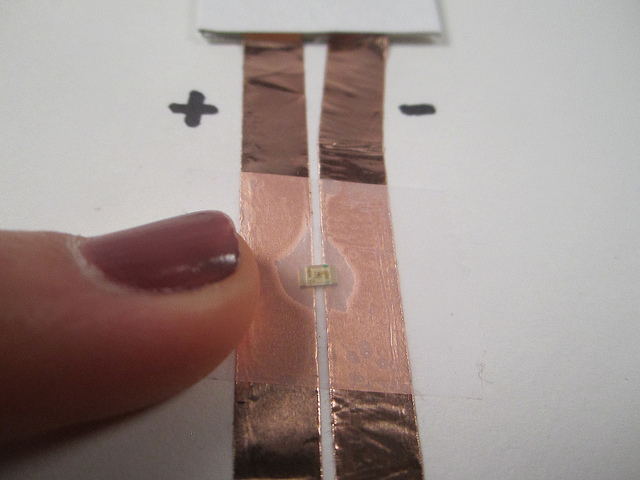 Taping over SMD LED. Image via Jie Qi's flickr feed.
Use With:
Copper tape
Through-hole or SMD components
Z Axis Tape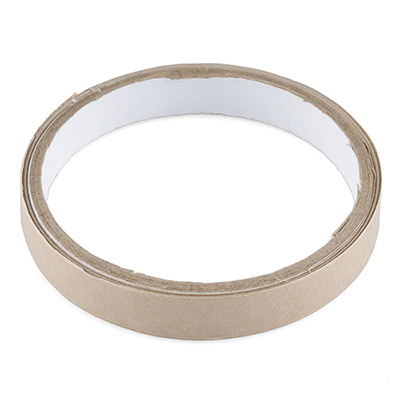 Z-Axis tape is an easy-to-use, pressure sensitive double-sided tape designed for connecting, bonding and grounding flex circuits and PCBs. We can use small sections of tape to attach components to conductive traces.
Use With:
Copper tape
Components with larger surface area such as tabs (bend wires into spirals or squares to give an easier surface for the adhesive to grab onto).
Conductive ink in large areas - draw pads for components and tape to attach to.
Conductive Paint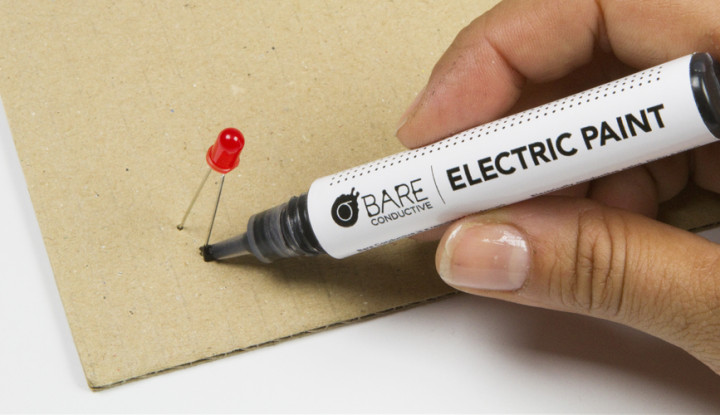 Conductive paints can be used as a glue/cold solder joint to attach components to traces. Push components into wet paint to connect and let dry completely before powering.
Use With:
Conductive paint traces - attach components while the original trace is still wet for the best connection.
Non-flexible surfaces - the paint can crack or break under repeated stress. Push component legs through the paper before painting for some strain relief.
Through-hole and SMD components
Conductive Glue/Epoxy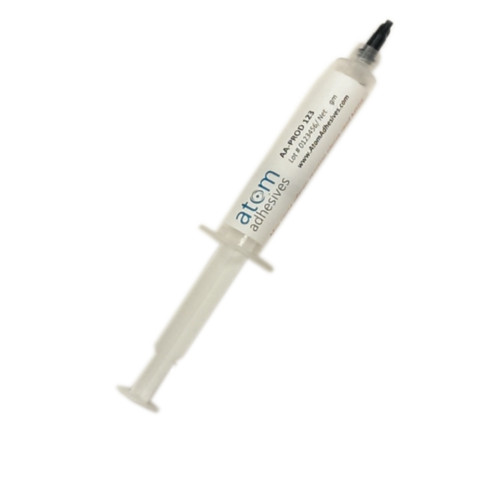 Conductive glue or epoxy is another option for connecting components. These products are one of the more expensive ways of attaching components to your paper circuit projects and can be difficult to work with. Often they need a long dry time or to be heat set. Try to find a syringe of epoxy to cut down on mess and help with precision placement. Make sure to read through the MSDS and follow all package directions when using these types of glues.
Use With:
Copper tape
Conductive inks
Through-hole and SMD components
LilyPad components
Soldering
Soldering is one of the stronger connections you can make with paper circuits, the only drawback is that it will only work on copper tape - you cannot solder to conductive paints, inks, or most fabrics. If you need help learning how to solder, check out our tutorial.

Use With:
Copper tape
Through-hole and SMD components
LilyPad components
Circuit Stickers
---