Teensy Arduino Shield Adapter Hookup Guide
≡

Pages
Contributors:
Toni_K
Favorited
Favorite
3
Introduction
Note: This shield has been updated to v1.1. The only difference in the revision is a single jumper to isolate the Vcc power from 5V. Just in case users accidentally connect 5V to the ISP pins (the Teensy is a 3.3V board).
The Teensy Arduino Shield Adapter is a useful tool for upgrading existing projects to a more powerful controller. If you have an Arduino shield you'd love to use, but prefer working with the Teensy, then this product is just what you need!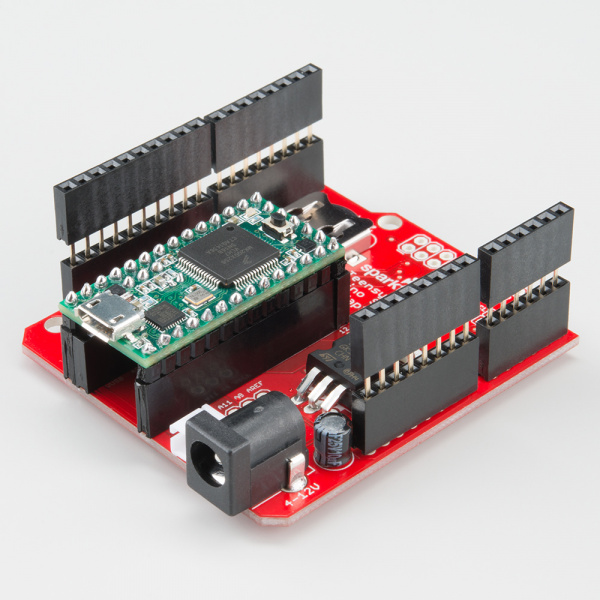 Required Materials
To follow along with this tutorial, we recommend you have access to the following materials.
As this adapter was originally designed for the Teensy 3.1, we recommend using either the Teensy 3.1 or 3.2. However, th footprint is compatible with the Teensy LC (not all of the features available on the adapter are compatible with the LC... see Teensy Compatibility section).



Retired
In addition to the Teensy, you will need a micro-USB cable (examples below):
To assemble the adapter shield, you will need some soldering equipment (examples below):


Suggested Reading
If you aren't familiar with the following concepts, please review them before beginning to work with the Teensy Arduino Shield Adapter.
---