≡

Pages
Contributors:
Gella
Favorited
Favorite
6
Introduction
Design and build time: 5-10 minutes
---
Welcome to the world of paper circuits - creating electronic projects directly on paper using simple components. This guide will walk you through building a simple circuit using copper tape, a 5mm LED, and a 3V coin cell battery.
SparkFun offers two kits designed specifically for this paper circuit project. The main difference between the two kits is that the Classroom Pack includes batteries, four LED color options, and some spare parts. If using the SparkFun Paper Circuits Kit, you will need to provide or purchase your own 3V CR2032 20mm coin cell battery to follow along and complete the project.
Required Materials and Tools
In your paper circuits kit, you will find a plastic bag that includes:
Printed Paper Circuit Template
12" Piece of 5mm Copper Tape
Yellow 5mm LED
Binder Clip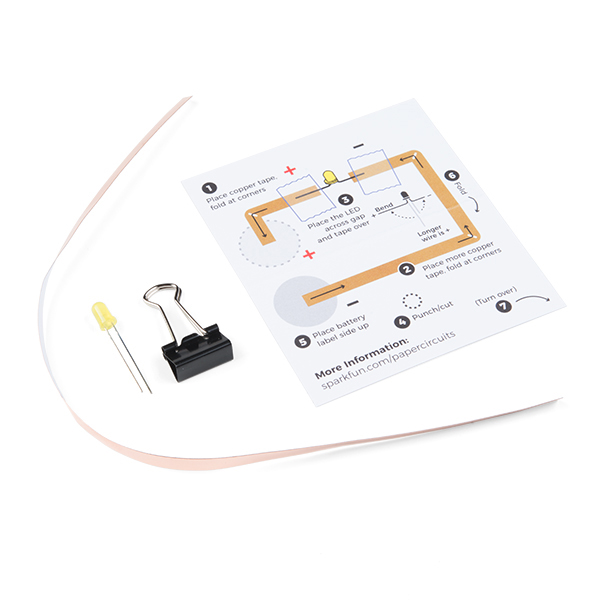 You Will Also Need:
3V CR2032 Coin Cell Battery (Included in the Classroom Pack)
Scissors
Hole Punch
Clear Tape
Decorating Supplies (markers, pens, crayons) If You'd Like to Color In the Finished Project
Don't have a SparkFun Paper Circuits Kit? You can follow along with this project using this
wish list
of individual pieces. You will need to print the template on cardstock and supply your own binder clip (available at local craft stores) to complete the project.
Downloadable Templates
Your kit includes the following printed template. If you would like to choose a different template or make more projects, you can also download and print a PDF.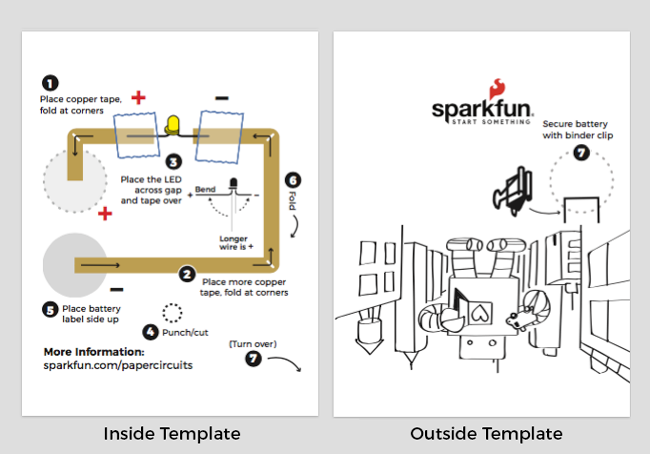 Download Robot Template (PDF)
Right-click the template's image or link, and choose "Save Link As" to download the it to your computer. Each file has the circuit template on one side and a design on the other. Print on 8 ½" x 11" cardstock paper and cut out individual template (6 total per print). You will only need one to make the project.
Please Note: Depending on your printer, your print may not align perfectly for double-sided printing at first without some setting adjustments. If needed, adjust your printer's margins, or choose 'Fit to Page' in the print settings. We recommend printing on scrap paper first.
Suggested Reading
If you are brand new to working with electronics, here's some helpful reading to check out:
What is a Circuit?
Every electrical project starts with a circuit. Don't know what a circuit is? We're here to help.
Light-Emitting Diodes (LEDs)
Learn the basics about LEDs as well as some more advanced topics to help you calculate requirements for projects containing many LEDs.
---