Getting Started with the SparkFun Inventor's Kit for Google's Science Journal App
This Tutorial is Retired!
This tutorial covers concepts or technologies that are no longer current. It's still here for you to read and enjoy, but may not be as useful as our newest tutorials.
≡

Pages
Contributors:
bri_huang
Favorited
Favorite
1
Introduction
Google announced their Making & Science Initiative at the 2016 Bay Area Maker Faire. Making & Science is an initiative at Google to inspire future scientists through making and tinkering, and we're proud to be working with them to provide an electronics kit that is designed to support the Making & Science activities developed by Google with a team at the Exploratorium.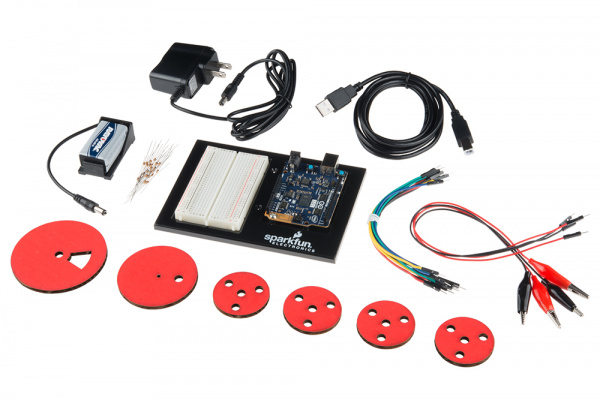 More information about the Making & Science initiative and these activities can be found at: makingscience.withgoogle.com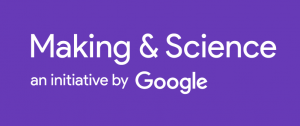 This kit includes all the electronics parts needed to start exploring and measuring your environment. The kit includes:
Arduino 101 pre-programmed to work with the Science Journal App
Breadboard & Breadboard holder
9V Battery & 9V Battery holder
9V Wall adapter
Mini Photocell
10k Ohm resistors
Temperature Sensor
Cardboard cutouts for building your own Wind-Spinner Project
And more!
The parts in this kit complement the features in the Science Journal App, a digital science notebook for your Android device. We've pre-programmed the Arduino 101; so, all you have to do is get the app, power up your Arduino 101, and start exploring the awesome activities with the Science Journal.
This guide is only a supplement to the materials found on the Science Journal site. In this guide, we'll show you how to hook up two external sensors to the Arduino 101 with the Science Journal. With the materials in the kit and the ideas from the Science Journal website, you'll be able to make your very own windspinner project like the one pictured below and more! Let's get started.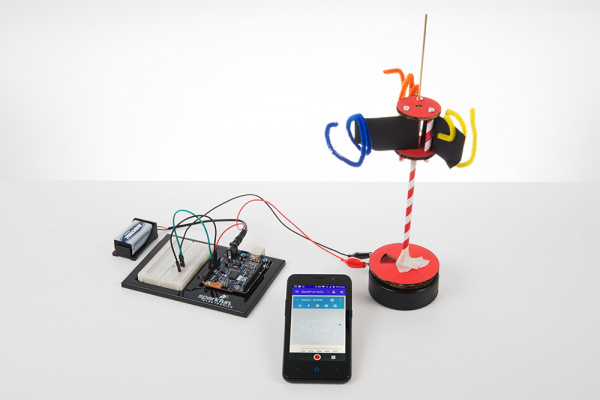 ---