≡

Pages
Contributors:
SFUptownMaker
Favorited
Favorite
2
Spectacle Motion Board
The Spectacle Motion Board makes it easy to add movement to your Spectacle projects. It can control up to 5 servo motors, either of standard or continuous rotation type.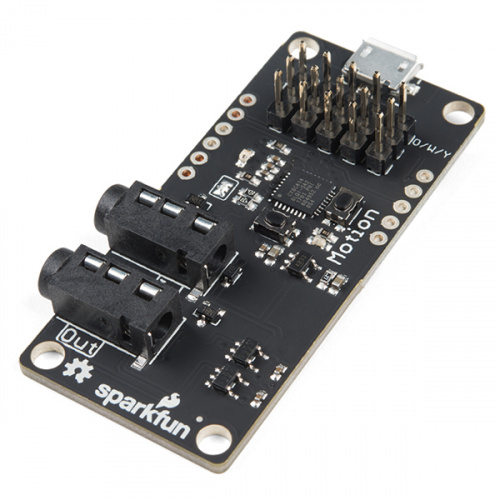 Retired
tl;dr (essentials)
The USB Micro B port on the servo board is only for providing power to the attached motors.
A single servo, or a couple of small servos, can be powered over the Spectacle control cable.
Servo motors can be of the standard or continuous rotation type.
Meet the Spectacle Motion Board
Designed to make it easy to add simple motions to your Spectacle projects, the Spectacle Motion Board integrates with the rest of the Spectacle ecosystem to allow you to control motion effects relatively effortlessly.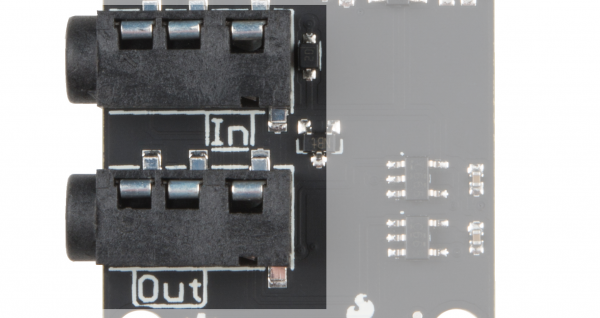 It has two 1/8" (3.5mm) jacks for Spectacle control signals. Pay attention to the directionality of the jacks! The one labeled "In" should be plugged into a board that is closer to the Director Board than the Motion Board is, or into the Director Board itself.

The Motion Board supports up to 5 servo motors. The servo motors can be either standard motion or continuous rotation servos. There's a note on the board ("O/W/Y") for the color which should be on the top row of the header: orange, white, or yellow. Most servo motors will have one wire which is one of these colors, and that wire should line up with this note.

The Motion Board has a Micro B USB connector to allow it to be directly powered by an external power supply. The relatively slender audio cables the Spectacle data travels over are not adequate for the large amount of current drawn by larger servo motors or by multiple motors.
Suggested Reading
Before proceeding, you should read through the Spectacle User's Guide. It will give you the basics you'll need to know about how Spectacle works to follow the rest of this tutorial.
---