SHT15 Humidity and Temperature Sensor Hookup Guide
This Tutorial is Retired!
This tutorial covers concepts or technologies that are no longer current. It's still here for you to read and enjoy, but may not be as useful as our newest tutorials.
≡

Pages
Contributors:
Joel_E_B
Favorited
Favorite
2
SHT15 Overview
The SHT15 is an easy to use, highly accurate, digital temperature and humidity sensor. All you need is two lines for 2-wire communication, and you'll have relative humidity and temperature readings to help you sense the world around you!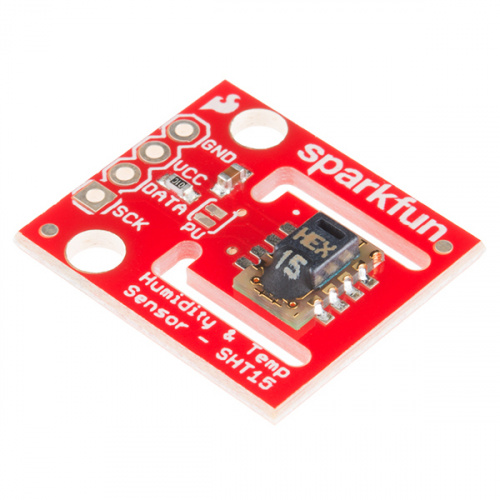 Retired
Features you should know about this sensor:
Operating Voltage: 2.4V min - 5.5V max
2 factory calibrated sensors for relative humidity & temperature
Digital 2-wire interface (Not I2C, but similar)
Measurement range: 0-100% RH
Absolute RH accuracy: +/- 2% RH (10…90% RH)
Repeatability RH: +/- 0.1% RH
Temp. accuracy: +/- 0.3°C @ 25°C
Precise dewpoint calculation possible
Fast response time
Low power consumption (typ. 30 µW)
Here's the datasheet
This sensor is ideal for environmental sensing and data logging and can be used in applications ranging from a weather station to a humidor control system.
Suggested Reading
Things you might need to know:
---