Qwiic Ultrasonic Distance Sensor (HC-SR04) Hookup Guide
≡

Pages
Favorited
Favorite
1
Introduction
The SparkFun Qwiic Ultrasonic Distance Sensor is great for providing non-contact distance readings from 2cm to 400cm. It improves on the classic HC-SR04 distance sensor by adding a pair of Qwiic connectors to it, so now you can communicate over I2C and daisy chain any other Qwiic product of your choosing.
If you prefer to bypass the Qwiic connector and I2C you can also access the VCC, Trigger, Echo, and Ground pins broken out on the edge of the board. Please be aware that this ultrasonic sensor comes uncalibrated and you will need manipulate the raw output for your specific application. Let's have a look at this fun board!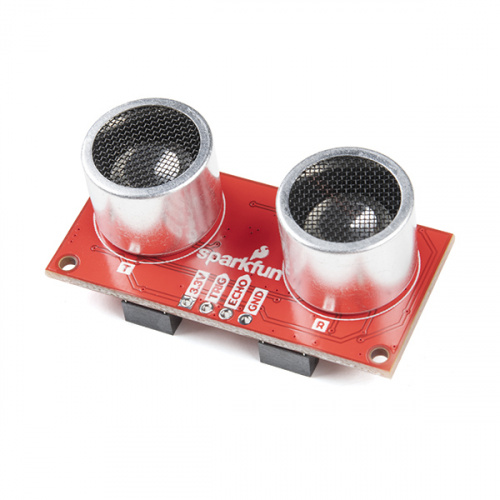 Required Materials
To follow along with this tutorial, you will need the following materials. You may not need everything though depending on what you have. Add it to your cart, read through the guide, and adjust the cart as necessary.
Suggested Reading
If you aren't familiar with the Qwiic system, we recommend reading here for an overview.
We would also recommend taking a look at the following tutorials if you aren't familiar with them.
I2C
An introduction to I2C, one of the main embedded communications protocols in use today.
Serial Terminal Basics
This tutorial will show you how to communicate with your serial devices using a variety of terminal emulator applications.
---