≡

Pages
Contributors:
Nick Poole
Favorited
Favorite
1
The Kiosk
I took my inspiration for the enclosure from things like airport information kiosks. Modern information kiosks are essentially just free-standing computers with all of the important bits hidden. Using the pcDuino as my computer gave me a lot of freedom in designing this thing, since it's small enough to be easily concealed. For the monitor, I chose our 7" LCD Monitor since it connects easily to the pcDuino and is also very lightweight.
I opted for MDF as my material, both because it's inexpensive and because it presents a smooth surface for finishing. I picked up a 4x8' sheet of MDF at the local hardware store and dragged it back to the shop. I just needed an upright panel in which to mount the monitor, a shelf for a keyboard and a base that was sturdy enough to keep it from tipping over. I went for the simplest possible shape, an upside-down "T" with some braces to keep it rigid.
Everything was assembled with screws and woodglue. A steel angle was used to hang the keyboard shelf and give it some reinforcement. Acrylic bezels were cut for the monitor and chocolate dispenser. I disassembled the monitor and pulled the LCD screen out so that I could mount it flush to the front of the kiosk.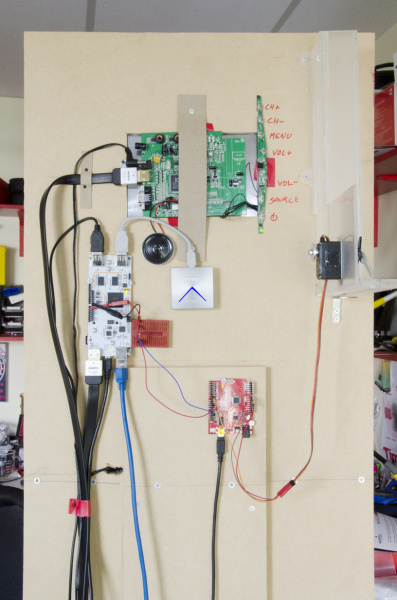 Once everything was mounted along the back of the board, it needed to be powered. Since I didn't want to take up every outlet in the room, I went ahead and threw in a power strip. After all, the Redboard, the pcDuino, and the LCD monitor all have separate plugs.
Since it was going to live in the (semi)controlled environment of the office, I decided the kiosk didn't need a protective cover on the back to prevent tampering. I did, however, use some handy foam double-stick tape to attach the keyboard in place.
Finally, everything got a coat of white paint and a SparkFun stencil. MDF does not like to take paint, it soaks it right up, so it would probably make more sense to laminate it with something like a vinyl wrap. Ain't nobody got time for that, so I just kept throwing paint at it.
---