≡

Pages
Contributors:
Joel_E_B
,
bboyho
,
Ell C
Favorited
Favorite
10
Introduction
Hot-air stations or heat guns are very useful tools and are essential for any electronics workbench. When working with or building printed circuit boards, there is a lot of room for errors to be made. Whether you're relying on machines to do the building for you or building by hand, solder can often have a mind of its own. Sometimes the person doing the building (or the person programming the machine that does the building) can make a mistake. Other times, the solder or components on the PCB can react in ways that are not desirable during reflow. Have no fear though, there are ways to remedy this! The SparkFun hot-air rework station - 303D is one such solution.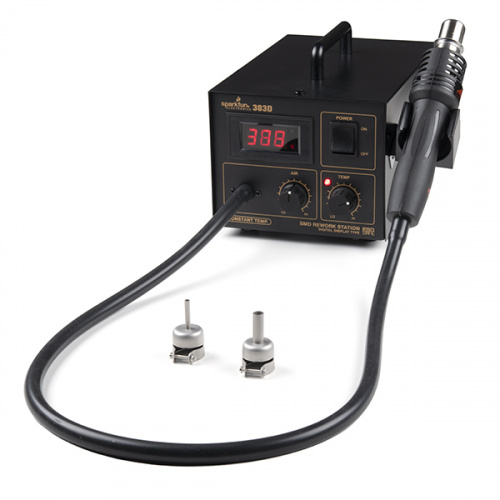 Retired
Tools
Besides a hot-air rework station, you'll need a few tools to rework a surface mount components on a board. The tweezer type will depend on the job and personal preference. Flux can also help reflow solder joints.
Additional Tools
To protect your table's finish, we recommend using a heat resistant material.
Heat Resistant Material

Piece of Medium Density Fiberboard (MDF)
Silicone Mat
If this is the first time that you have reworked a board, try reworking a scrap board from our ding and dent before reworking an expensive PCB!

Retired

Retired
---