Happy New Year! The past couple weeks, I've had a little down time to clean-up my office and get my desktop (both physical and digital) organized. I found a wealth of photos and things from our trip to Hawaii - that I felt we should share with our readers.
Back in October, three fine gentlemen from SparkFun's Boulder office traveled over 3,000 miles off for a section of the National Tour that is not reachable by land. While we didn't get to see the cast of Hawaii 5-0 while on the islands, we did get a chance to teach a lot of great classes and meet several amazing people out there. We are ever grateful for their hospitality and generosity!
'Iolani School
Within 24 hours of landing in Honolulu, we found ourselves at 'Iolani School - one of the top private schools in Honolulu. 'Iolani has been fortunate to have recently received a large endowment to help them complete a $23 Million construction of a new building called the Sullivan Center for Innovation and Leadership.
A pretty accurate artistic depiction of the new building at 'Iolani
We taught our class in their brand new innovation lab, fully equipped with all the tools, machinery, and materials needed for a professional engineering and fabrication facility. A few of the new "toys" we saw included a water-jet, CNC mill and lathe, several 3D printers, and a CNC PCB Milling Machine. It's quite the facility! These students have their very own hackerspace / fabrication lab!
Photos of the fabrication facilities in the Innovation Lab
Our first class in Hawaii was taught to a mix of about 15 students, teachers, and adult mentors to the school. 'Iolani is focused on how to get computing, Arduino, and electronics embedded into their lower schools. To show them some of our new tools, we opted to run our workshop using ArduBlock and the LilyPad Protosnap Development Board. The students at 'Iolani were amazing and showed us that there really is no limit to what you can do with ArduBlock!
Our first class in Hawaii - minus a few students who had to leave early.
(Check out the touch-screen 60" monitor behind us!)
Oahu Makers
Our second day was spent with the Ross Mukai and the Oahu Makers. Ross partnered with Shinshu Kyokai Mission, a Buddhist Temple to host our workshop. This might have been a first for us here at SparkFun - teaching Arduino at Buddhist Temple? The classroom was an open-air general purpose meeting room - complete with a stage for performances! (While tempted, we did not teach the class from the stage...)
The front of our workshop location for day #2
Ross totally sold out this class through Oahu Makers. We had a pretty wide mix of students from young kids in elementary school to retired teachers curious about Arduino. We saw a huge range of skills and creativity in our session.
After our workshop, Ross took us around the island on the next day in Hawaii. After having tried Fluff Ice in LA, I've been obsessed with finding and perfecting Tawainese shaved ice. I even went as far as buying my own shave ice machine! Ross was kind enough to appeal to my requests, and we sampled some of Hawaii's best shave ice. Our first stop was City Cafe - ranked #1 by yelp. I have to say, that it was a pretty amazing experience. Fluffy, sweet, and just the right balance. and covered with classic sweet bean!
On our tour of the island, we ventured to the North Shore for Matsumoto's Shave Ice. This is legendary for tourists, and the line leading out of this small store front is quite indicative of the popularity.
Ross then took us to see the Oahu Makerspace - currently co-housed inside the Honolulu Furniture Company. This is quite the perfect arrangement. Ross and all of the Oahu Makers have shared access to the major tools used by the Honolulu Furniture Company. They do have to be careful about keeping the metal working / welding separate from the rest of the woodworking.
Punahou
The following day, a friend of SparkFun - invited us to give a short workshop to his son's class at Punahou School. If you're not familiar with Punahou, founded in 1841 - it is one of the oldest schools in Hawaii. Another interesting fact - it is also President Obama's alma mater! We were told that there was an amazing 3rd grade teacher at Punahou that we had to meet. Mr. Kris Schwengel left us in awe with the activities, engagement, and rigor he brought to his classroom. Mr. Schwengel's classroom is equipped much like a mini-makerspace complete with pegboards, tools, and fabrication equipment! He explained some of his classroom learning units such as designing and building survival pants to creating 3D models to programming in Scratch.
A view of Mr. Schwengel's 3rd grade classroom.
This was one of the youngest groups of students that we've done circuit building and arduino programming with. However, as a testament to Mr. Schwengel's teaching and his students - we introduced his group of 3rd graders to the Lilypad Arduino Protosnap Development Kit using ArduBlock.
Mr. Schwengel prepping his students for our workshop with them.
We had about an hour and a half with his kids. This was incredibly short and these kids were by far some of the youngest we've ever worked with. To help scaffold the learning environment for this class, I created a set of example sketches for the students to work through. Providing a set of blocks for students to play around with eliminates the confusion and extra complexity of searching and finding the blocks from the menus. With a few guided instructions, our 3rd graders were off and running with little hand-holding.
An example of the first sketch I had students explore.
A link to the presentation materials and the ArduBlock example sketches can be found here. We walked them through the first couple sketches for blinking and changing LEDs. We then set them lose to explore the other sketches and to think about what things would they want to build or make? The time flew by fast! By the end, though - we had kids making sounds, creating chasing LED patterns, and buzzing the vibe motor! It was a pretty amazing success for these kids and this class!
Punahou students investigating persistence of vision (POV) on the LilyPad Protosnap Board. These will, undoubtedly, be future engineers, scientists, problem-solvers, and change-agents for our future!
Additional Photos from Honolulu
Maui - The Valley Isle
Our final tour stop in Hawaii took us to the island of Maui. We worked with Jerry Isdale and the Maui Makers. Jerry hosted an open-house event for Maui Makers the night before our workshop in Maui at the University of Hawaii - Maui College - one of the only schools that offers a 4 year Bachelor of Applied Science degree program (BAS) in Engineering Technology. They recently completed renovations to their engineering facility. We saw some amazing facilities and great students studying at UHMC.
Our short presentation to the Maui Makers @UHMC
Jerry Isdale packed our class as full as possible with over 30+ students. Our tour stop provided the Maui Makers with 20 full SparkFun Arduino Inventor's Kits, but we also had at least 10 - 15 additional students who just came to watch and participate for the full day class. The class was partially sponsored by the Maui Economic Development Board - with a specific focus in boosting existing talent and industry in Maui.
Brian H. leading the class for the Maui Makers at one of the MEDB conference rooms.
This group included about half a dozen high-school and middle school students from the area, several teachers, and many locals that are curious about making and building with electronics. We ran a typical "Introduction to Arduino" class with this group. However, we saved the last 2 hours of the workshop for our students to work with their neighbors, explore the other circuits in the Inventor's Kit, and create a new invention from cardboard, soda cans, and any other materials we could find in the conference room. We saw projects from a motion activated garden tiki sculpture to spinning fan blades made from a cut-up soda can. The creativity, excitement, and inspiration flowed freely in this class!
Here are just a few photos that we pulled from the event:
Students showing the deep focus and hard-fun they're having with Arduino!
->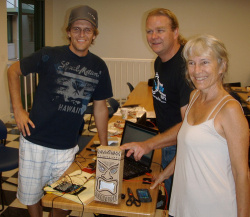 <-
Hack and Build - Motion activated Tiki made from cardboard, the servo, and LEDs in the SIK.
Our whole team was blown away by the breadth and complexity taken on by the folks in our class. These projects were designed and built with no prior experience in Arduino before this class! What a privilege it was to teach this class and see the inspiring ideas that came from our mini-hackathon!
Aloha and Mahalo!
Our hosts in Hawaii taught us two words that are two of the most important words in the Hawaiian language. Casually, these mean hello / goodbye / I love you and thank-you / you're welcome. However, these words carry a much greater meaning to the Hawaiian people. These two words describe the incredible generosity and caring nature that the people of Hawaii show to one another and to their guests.
From all of us here at SparkFun, a big thank you to everyone we worked with in Hawaii. It was an immense pleasure for our team to visit and run our workshops for you. We can't wait to see what other projects come from each of the schools and makerspaces there. We hope to be back soon! Until next time...
Shaka!
---
---
Comments 0 comments