On The Road with the National Tour
Hitting the road on the East Coast with the SparkFun National Tour
Favorited
Favorite
0
When Jeff first asked if I wanted to go on a leg of the national tour I jumped at the chance. What could be better than hanging out in a 29-foot RV with some co-workers for a couple weeks, driving around sharing the joy of electronics? Let me give you a look into what it's like to be living, breathing and sharing SparkFun during the tour.
I flew into Boston on Tuesday afternoon, already pretty exhausted. I'd just returned from a rather revelrous trip to Portland, and before that had been dealing with the flooding that ravaged Boulder the week prior. I had no idea what I was in for getting off that plane when the SparkFun RV rolled up at Logan International.
We made the first stop before I'd even had a meal since landing. We were near the Artisan's Asylum, the largest maker space in the US and likely the world. We dropped in just to say hi and check out the facility. It's inspiring seeing what folks are working on there - everything from 15-foot autonomous boats, making bike frames from tubular steel and even a hydraulic hexapod named Stompy. We were wrapping up a tour of the facility when we swung through the break room and found the crew from 3Doodler, the pen that can 3D print in your hand. They gave us a demo and let us try out the device for a few minutes, and it turns out that they're huge SparkFun fans and used our parts for the early prototypes. Though it came as no surprise, it's fun to see how inventors use our stuff to, well, invent. All in all, a great first (albeit brief) stop.
We grabbed some Indian food nearby and before we knew it we were due to check in at You-do-it Electronics, the site of the next day's workshop. We got to the 3-story building just before they closed at 9pm and walked the aisles briefly. Imagine if a Radio Shack and a Costco had a baby with that old-timey family owned hardware store you love. That's You-do-it. Thousands upon thousands of square feet of parts, consumer electronics and more components than I could use in a lifetime. (though I would accept the challenge!) We got kicked out at closing and made our way back to the parking lot where the RV was parked, had a beer and bunked down for the night.
And that was Day 1, a rest day.
We woke up in the morning to prep for the first class of the day, a 10am four-hour Introduction to Arduino class hosted at the You-do-it front hall. There was a good showing with over a dozen attendees crowding into the small space, but we had a blast and taught the basics of embedded programming and circuit design. The four hours breezed by and before we knew it we were having pizza in the YDI break room with a handful of employees and prepping for our 4pm class, an XBee wireless class.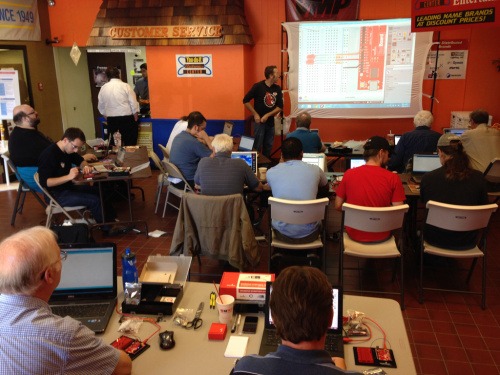 Which is funny, because XBee isn't on the curriculum list for the tour. The kind folks at YDI insisted we have a more advanced class for their customers who already know the basics of Arduino and circuits, so we were happy to improvise. We put together a parts list and had the parts for the class sent to them ahead of time, and threw together the curriculum for the advanced wireless class just in time.
The class ended at 8pm, and we were treated to a steak dinner and drinks by the family that owns YDI. After my first full day on tour, I welcomed it. We got back to the RV and called it a night.
We woke up and did the same thing the next day. We reversed the order of the classes, but had the same full day of XBees and Arduinos. When the day ended, we said our goodbyes and hit the road at 9pm. I drove until 1:30am or so, where we pulled into a Wal*Mart in Berlin, Vermont - the city where that morning's class was. We caught a few hours of shut eye before waking up to set up for an all-day session of teaching some Vermont librarians the basics of everything from programming Scratch through Arduino. It was very well received, and the forty librarians were a dream to teach despite us all being crowded into a relatively small space. We were even the guests of honor for lunch, which was a superb potluck. Those librarians can _cook_.
Throughout the day I was musing with Jeff on the idea that we could maybe put a weather balloon payload together. We had all the pieces for one, except the lighter than air gas. Given the global helium shortage, there's no way we could find any on short notice in a new area. Most gas supply shops require a corporate account to rent out cylinders anyway. I called around and found a welding supply shop that had current stock of hydrogen gas, so during lunch I drove the RV to it and, long story short, I now have a credit account with them and walked away with 300 cubic feet of the flammable gas. More on that later.
->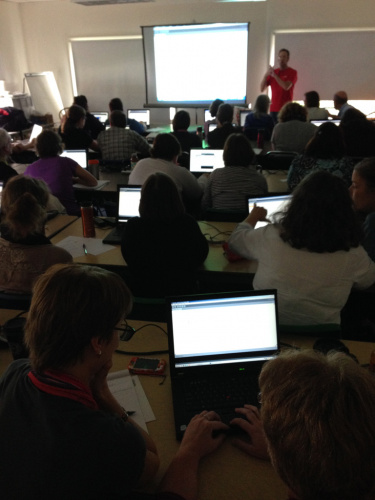 Teaching librarians in Vermont<-
Without hardly taking a breath after teaching, we left the library that night and hit the road again to make our way to Burlington, Vermont where we were visiting the Champlain Mini Maker Faire. We had a few tables set up for us front and center, and got to interact with all sorts of makers over the weekend. We also rented a couple rooms at a nearby bed and breakfast.
I got my first shower since leaving my house in Boulder, 4 days prior. Such is life on tour, I suppose.
The maker faire was totally rad. I went last year and this year was even better, I think. Vermont has a close-knit maker group, and their faire is not nearly as large or corporate as those in San Mateo or New York. Though Vermonters miss out on some of the bigger art projects and attractions, they make up for it in having an awesome community full of support. After two full days on my feet talking nonstop to makers of all types, I was losing my voice and needless to say didn't get a balloon payload together. The very kind building manager at Shelburne Farms had a few words with me about having hydrogen gas on the premises as well, so it had to find a new home in the RV. We did, however, get to help one of the kind folks from the Vermont Makers fill and track one of his weather balloon payloads.
->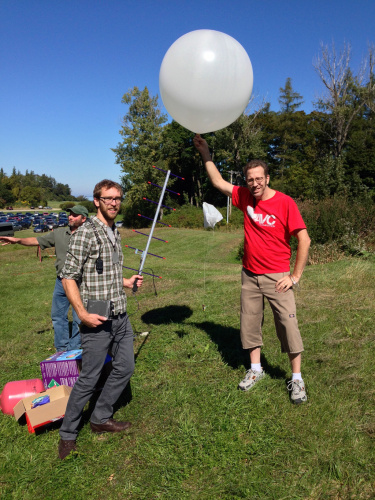 Filling and launching a mini weather balloon payload<-
After wrapping up the faire, Dav and I went out on the town with a few folks from Laboratory B, a fantastic local hacker space that put on a SparkFun sponsored solder workshop during the event. They are hackers in the truest sense of the word, and it was nice to have a ton of beers with them and talk everything from the NSA leaks, bitcoin and electronics to anti surveillance fashion. They even printed and laminated us a fake parking pass so we could sleep in the RV in their parking lot. True hackers. Also: try Heady Topper if you ever get the chance. You won't regret it. Plus, we had to leave the Hydrogen tank somewhere, so I convinced them to hang on to it for me and return it, empty or full. Whatever they do with the gas is up to them. But I trust them to be creative!
Monday was a rest day, my first since arriving. We woke up in Burlington and drove across the state line in to New Hampshire to get the RV serviced and meet up for lunch with Bill Church, a local who set up our next stop of the tour. He's a former high school teacher and is shifting his life around so he can be a part of the next generation of educators, and we helped him with one more step towards that goal. We put on a hands-on Arduino class for 6-8th graders to get them interested in electronics and programming. There were lots and lots of blinking LEDs.
->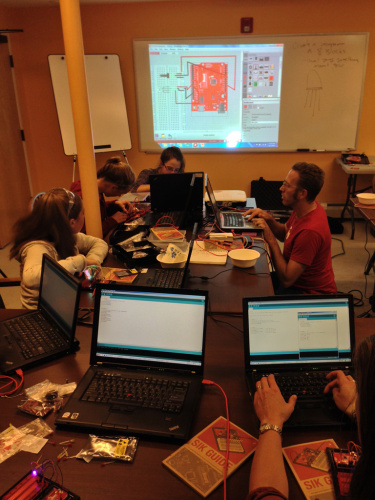 Teaching kids the wonders of electronics<-
And here I am at an RV park just outside Bethlehem, NH writing a blog post and putting together a weather balloon payload we're hoping to launch with Bill tomorrow if the nice weather holds. [Ed. Note: It worked! Another post coming soon!]
There's truly nothing quite like the experience of being on tour. It's not unlike what I imagine touring with a band is like. I'm not sure how the tour leads like Jeff manage to stay sane with such a full, non-stop schedule all the time, but I applaud them for being up to the task time and again.
---
---
Comments 0 comments