Pikes Peak Library District National Tour Stop
Experience from the Pikes Peak Library District National Tour Stop
Favorited
Favorite
0
Pikes Peak Library District (PPLD) in Colorado Springs had 19 teens and 10 adults attend the SparkFun Electronics National Tour event at its East Library location on Saturday, July 13, 2013. Attendees had a great time!
PPLD Graphic Designer Susan Clifton attended with her 9-year-old son, Max. "I liked getting the chance to try programming," she said. "I'd never tried it before. I was trying really hard to get my red, green, and blue lights to work together. It was a challenge and a lot of fun when I finally got it figured out."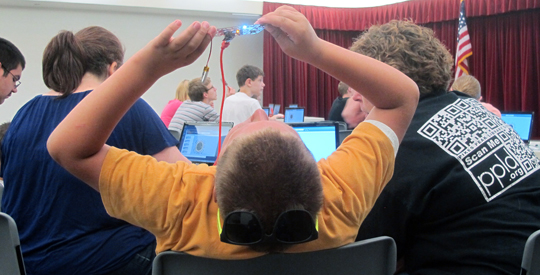 Sparkfun employees brought ProtoSnap Lilypad Development Board kits and provided a thorough introduction to the Arduino programming environment. Since many attendees were new to writing code, Sparkfun demonstrated how code could be written for the Lilypad in Modkit Micro, open source software that provides a graphic user interface for working with the Lilypad.
"I liked them showing us how you can make the (Lilypad) noises by just doing something simple on a computer," Max said, excited at the world of possible inventions he could create with computer programming. "It'd be cool if they could teach us how your sprinkler system turns on automatically or if I could use it to automatically open or close the windows in our house."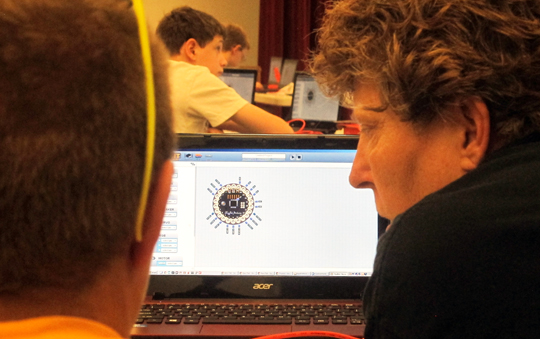 Attendees to the class not only got an introduction to computer programming, they also learned how to design their first eTextile. Sparkfun's Lilypad kit is made to break apart and create wearable items with, and attendees had a great time making and sewing their own circuit designs with electrically conductive thread.
"I'm really happy with the turnout we had for this program," said PPLD's IT Officer Carolyn Coulter. "It shows we've got a community of patrons who are interested in learning more about programming and physical computing at their local library. We'll be using the Lilypad development boards in other library programs as we move forward to offer a hands-on introduction to these subjects."
Written by Travis Duncan, Media Specialist for Pikes Peak Library District
---
---
Comments 0 comments