≡

Pages
Contributors:
SFUptownMaker
Favorited
Favorite
1
Spectacle Button Board
The Spectacle Button Board allows you to add input from buttons or switches to your Spectacle projects. It has a total of 9 signal inputs, eight of which can come from external buttons and one button directly on the board.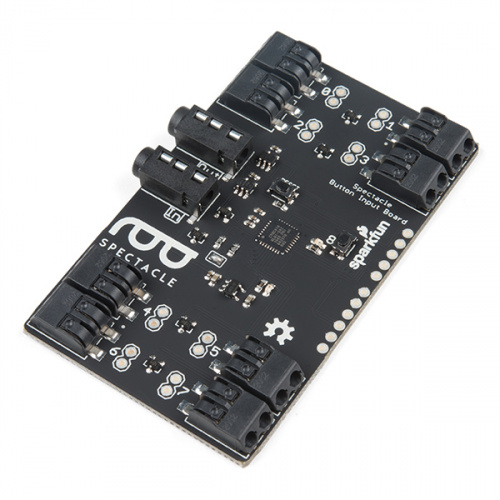 Retired
tl;dr
Buttons or switches can be connected to the board by pushing wires into the "poke home" type connectors on the board.
Up to nine signals are available.
Button signals can be either momentary or continuous.
Meet the Spectacle Button Board
Designed to bring simple signals from the world into your Spectacle projects, the Spectacle Button Board provides input for any of your Spectacle projects.
It has two 1/8" (3.5mm) jacks for connecting to other boards in a Spectacle system. Note that the Spectacle data jacks are directional: the one marked "In" should be plugged into the "upstream" board (i.e., closer to the Director Board than this one) and the one marked "Out" connects to the next downstream board.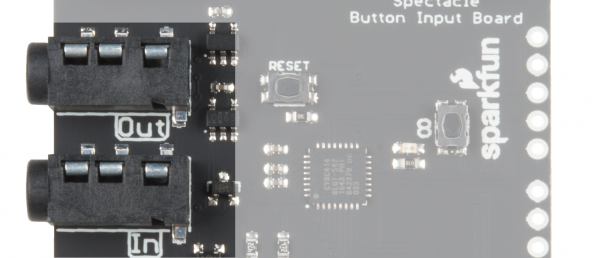 There are 8 "poke home" connectors on the Button Board. Each one can be connected to one (or more) buttons. To add a connection, simply push the stripped end of a wire into the hole on the connector. The connector will automatically grab on and hold the wire in place. If you need to remove the wire later, an small object (bobby pin, ballpoint pen, etc.) can be used to depress the release button, allowing the wire to be extracted without damage.

There is an input button on the button board itself which can be used to provide an input signal if no other buttons are available. It functions like any other normal button that might be attached. Be certain you're pressing the button labeled '8' and not the one labeled 'Reset'! Pressing the reset button will reset your button board, probably causing your entire system to stop working properly until you reset your Director Board!

---