≡

Pages
Contributors:
MTaylor
Favorited
Favorite
6
Hardware Overview
The following lists the features of the RedStick:
A boost regulator providing 5V to the Atmega328p from an input range of 2 to 6 volts.
16 MHz system clock (allowed because of the additional supply voltage)
Uno compatible in the Arduino IDE. Simply select the board "Arduino/Genuino Uno" and go!
USB end matches standard USB thickness and width.
What the RedStick is not:
A RedBoard -- it doesn't provide 3.3 volts, only 5.
A battery charger -- The RedStick turns off the battery when plugged into a USB port.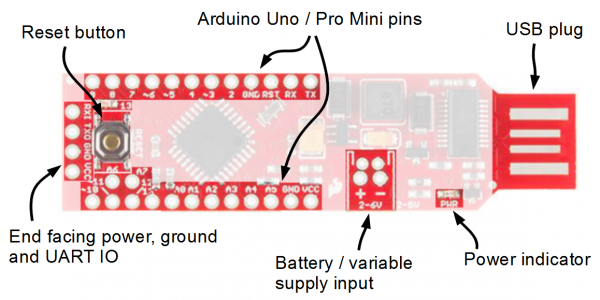 Parts of the RedStick
The following table lists all of the pins on the RedStick and their functionality.
| Pin Silk | Function | Notes |
| --- | --- | --- |
| TX | Serial transmit | This is serial data coming out of the RedStick. |
| RX | Serial Receive | This is serial data coming in |
| 2 | Digital | |
| ~3 | Digital with PWM | |
| 4 | Digital | |
| ~5 | Digital with PWM | |
| ~6 | Digital with PWM | |
| 7 | Digital | |
| 8 | Digital | |
| 9 | Digital | |
| ~10 | Digital / PWM / SS | |
| ~11 | Digital / PWM / MOSI | SPI bus |
| 12 | PWM / MISO | SPI bus |
| 13 | Digital / SCK / LED | SPI bus |
| A0 | Digital / Analog | |
| A1 | Digital / Analog | |
| A2 | Digital / Analog | |
| A3 | Digital / Analog | |
| A4 | Digital / Analog / SDA | I2C bus -- some applications require pull-up |
| A5 | Digital / Analog / SCL | I2C bus-- some applications require pull-up |
| A6 | Analog | Analog only! |
| A7 | Analog | Analog only! |
| RXI | Serial Receive | Electrically tied to RX |
| TXI | Serial Transmit | Electrically tied to TX |
| VCC | Microprocessor Power (Boost output) | If using as input, supply regulated 5.0 v |
| GND | Ground | |
| + | Battery Positive | Supply 2.0 to 6.0 volts |
| - | Battery Negative | This is also GND |
---