≡

Pages
Contributors:
Englandsaurus
Favorited
Favorite
3
Introduction
The Qwiic Single Relay is SparkFun's easiest to use relay yet. The single relay can handle up to 5.5A at 240 VAC for long periods of time. The Qwiic connectors and screw terminals also mean that no soldering is necessary.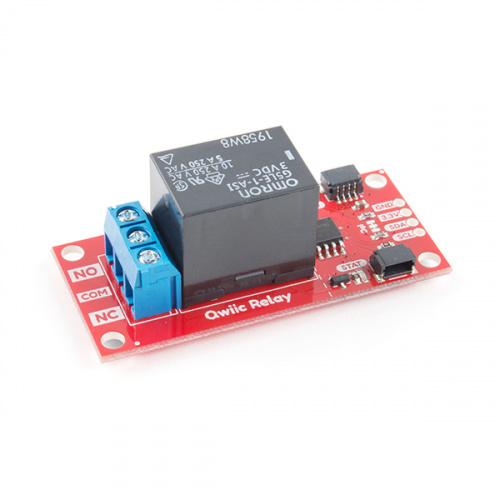 ⚡
Warning!
The Qwiic single relay is great for switching loads like motors, batteries, solenoids, pumps, and more! Keep in mind controlling high voltage (110/220VAC) requires certain precautions. A beginner can do it but if you're unsure then please consider the pre-made
IoT Power Relay
. It's not I
2
C but the IoT Power Relay contains shielding to prevent accidental shock.
Required Materials
To get started, you'll need a microcontroller to control everything. You may not need everything though depending on what you have. Add it to your cart, read through the guide, and adjust the cart as necessary.
Now to get into the Qwiic ecosystem, the key will be one of the following Qwiic shields to match your preference of microcontroller:


Retired
You will also need a Qwiic cable to connect the shield to your Qwiic Single Relay, choose a length that suits your needs.
Tools
You will need a flush cutter and wire stripper to remove the sheath and insulation from a cable. A Phillips head screwdriver will be required to connect the load's to a screw terminal.



Retired
Suggested Reading
If you aren't familiar with the Qwiic system, we recommend reading here for an overview.
We would also recommend taking a look at the following tutorials if you aren't familiar with them.
---