≡

Pages
Contributors:
Emcee Grady
Favorited
Favorite
6
Getting Started
By: Tara Tiger Brown and Sean Bonner SparkFun Hackers-in-Residence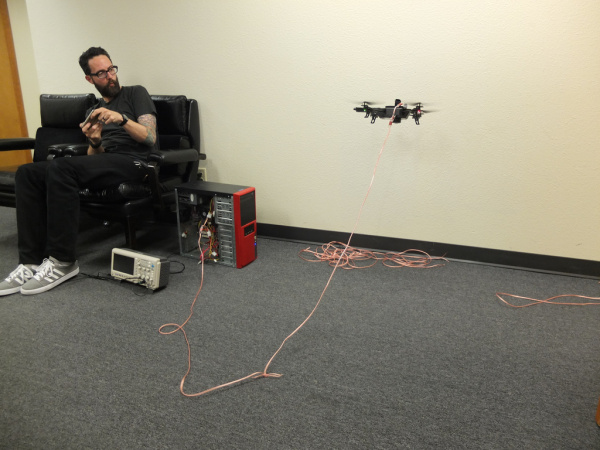 Important: Voiding Warranties
This should go without saying, but by hacking these off the shelf devices you are voiding all warranties. This is important because if you kill your drone by cutting it up you have to know ahead of time that you won't be able to call anyone at the company to help you troubleshoot. Same goes for the Dropcam - it's intended for indoor use in a controlled environment not to be flown all over the place outside strapped to a drone. So just know going into this you are on your own.
What You'll Need
Parrot AR Drone 2.0 Quadcopter @ $299
Dropcam WiFi HD Camera @ $149 (use this option for wifi/live web streaming) or HackHD Camera @ $160 (use this option to record to SD card and view later)
Monoprice 50ft 14AWG Enhanced Loud Oxygen-Free Copper Speaker Wire Cable @ $21
4 x Deans Connectors @ $0.95 ea
few small zip ties
Power Supply (we used a power supply from a PC, which requires two 4 pin Molex Connectors @ $0.95 each, but anything that supplies 12v at around/up to 8A should work.)
5v Power Regulator @ $1.25 or 3.3v Power Regulator if using HackHD instead of Dropcam
Heat Sync plus Mounting Parts (Screw, Nut, Locknut) @ $0.95 ea
Thermal Tape @ $3.95
Micro USB cable that you are willing to cut up (to power the Dropcam)
Tools
Soldering Iron/Station - we prefer variable temp but there are lots of options that should work.
Lead solder (easier to de-solder if you need to)
Scissors
Knife (xacto or similar)
Wire Stripper
Hot Glue Gun and Glue
References
---