≡

Pages
Contributors:
Alex the Giant
,
Ell C
,
JamesBM
Favorited
Favorite
0
Introduction
The AST-CAN485 I/O Shield (24) is an Arduino shield that will allow the user to interface the AST-CAN485 Dev Board with 24V inputs and outputs, which expands its usefulness into industrial systems.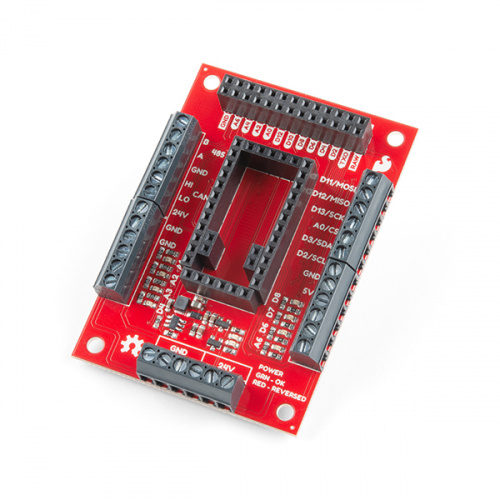 Retired
Required Materials
To follow along with this tutorial, you will need the following materials. You may not need everything though depending on what you have. Add it to your cart, read through the guide, and adjust the cart as necessary.
Tools
Depending on your setup, you will need a soldering iron, solder, and general soldering accessories to solder pins to the AST-CAN485. You will also need a flat head and wire strippers to connect wires to the screw terminals.
Suggested Reading
We recommend checking out the AST-CAN485 Hookup Guide to get started with the board. Depending on your setup, you may need to install custom libraries and board add-ons.
AST-CAN485 Hookup Guide
March 1, 2018
The AST CAN485 is a miniature Arduino in the compact form factor of the ProMini. In addition to all the usual features it has on-board CAN and RS485 ports enabling quick and easy interfacing to a multitude of industrial devices.
Also, if you aren't familiar with the following concepts, we recommend checking out these tutorials before continuing.
---