SparkFun Qwiic Dual Solid State Relay Hookup Guide
≡

Pages
Contributors:
El Duderino
,
Englandsaurus
Favorited
Favorite
2
Introduction
Introducing the SparkFun Qwiic Dual Solid State Relay. The Qwiic Dual Solid State Relay sports two solid state relays rated up to 25A at 240 VAC so you can switch some serious power with this board all from a single Qwiic connector attached to an Arduino or other low-powered microcontroller. The Dual Solid State Relay is the little sibling of our Qwiic Quad Solid State Relay Kit intended for users looking for a smaller solid state relay option.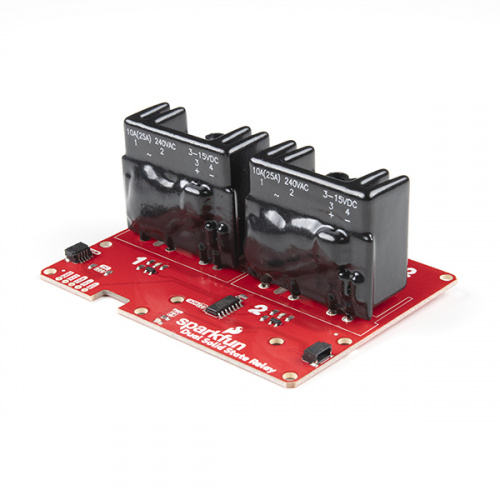 In this tutorial we'll detail the hardware on the Dual Solid State Relay, how to connect it to an Arduino or other microcontroller and how to use the examples included in our Arduino library and Python package.
Required Materials
You will need a microcontroller to control the Qwiic Dual Solid State Relay in order to follow along with this tutorial. Below are a few options that come Qwiic-enabled out of the box:
We also have a Python package available for this and our other Qwiic Relay boards so you can use a Raspberry Pi as your controller as well. A few Pi's we carry are listed below:
If your chosen microcontroller is not already Qwiic-enabled, you can add that functionality with one of the following items:
You will also need at least one Qwiic cable to connect your Qwiic Dual Solid State Relay to your microcontroller:
Required Tools
With the Qwiic system, soldering is not required to use the Qwiic Dual Solid State Relay but you will need a pair of wire strippers and a screwdriver to assemble your AC load.
Suggested Reading
If you aren't familiar with the Qwiic system, we recommend reading here for an overview:
We would also recommend reading through the following tutorials if you are not familiar with the concepts covered in them:
---