≡

Pages
Contributors:
Alex the Giant
Favorited
Favorite
6
Introduction
The SparkFun Adjustable LiPo Charger is a single-cell lithium polymer (LiPo) and lithium ion battery charger. Because it's adjustable, this charger will be able to safely charge all of our single-cell batteries.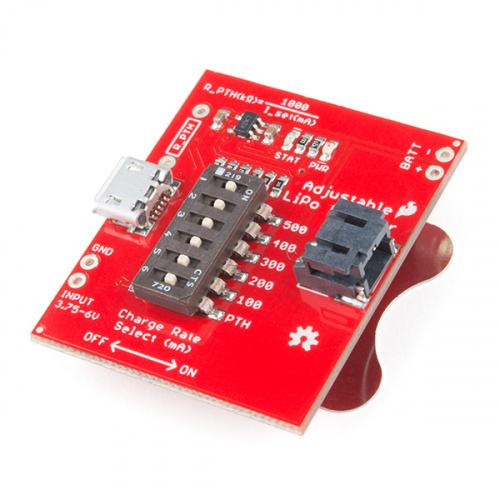 Required Materials
The Adjustable LiPo Charger parts required depends on your input power supply for charging and the size of the LiPo battery used. At the bare minimum, all that's needed to charge a LiPo battery sufficiently is a micro-B USB cable to connect to either a computer USB port or a wall adapter. We also have 5V wall adapters with a USB cable attached.
And one of the LiPo batteries with nominal 3.7V from our catalog:
For batteries smaller than 100mAh (i.e. 40mAh LiPo), you may also need to solder an assortment of resistors to set a custom charge rate.


Suggested Reading
If you aren't familiar with the following concepts, we recommend checking out these tutorials before continuing.
Battery Technologies
The basics behind the batteries used in portable electronic devices: LiPo, NiMH, coin cells, and alkaline.
Electric Power
An overview of electric power, the rate of energy transfer. We'll talk definition of power, watts, equations, and power ratings. 1.21 gigawatts of tutorial fun!
What is a Battery?
An overview of the inner workings of a battery and how it was invented.
---